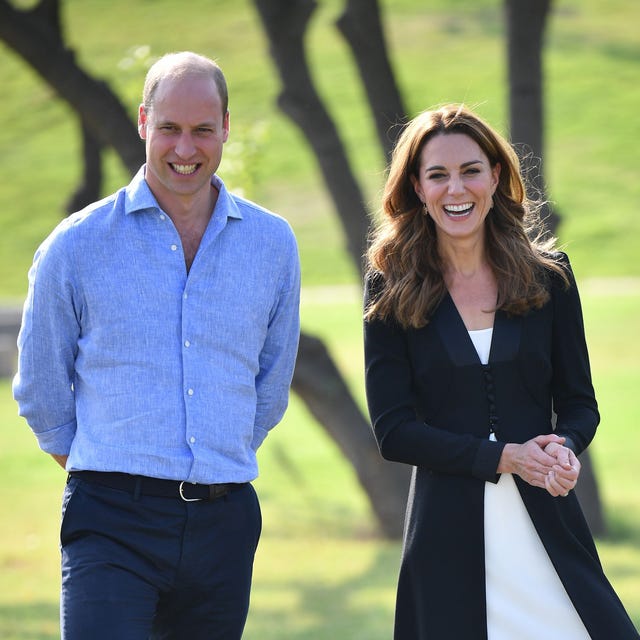 Tim Rooke/REX/ShutterstockGetty Images
Towards the end of last year, Prince William and Kate Middleton announced the very sad news that their family dog, Lupo, had passed away. The Cambridges are real animal lovers (as are William's brother, Prince Harry and his wife, Meghan Markle) and they confirmed in a rare, personal Instagram post that the news was a real blow.
However, quite movingly, a part of Lupo will still live on in their home – as William and Kate secretly welcomed a new puppy during lockdown, who is part of the same bloodline. Their new addition, Lupo's nephew, also came to them via somebody very close to the family; none other than Kate's brother, James Middleton, who is a real canine fanatic (having even founded his own dog food brand, Ella & Co).
They managed to keep the news hush-hush until recently though, until royal reporter Emily Andrews, while writing for the Daily Mail, revealed that they initially welcomed the new pup into their home thinking that it could keep their beloved Lupo company, instilling him with some "more life and energy". Unfortunately, the two dogs were only able to spend a few months together before Lupo sadly died.
A source, cited as a friend of the family, is quoted as saying: "They were devastated when Lupo passed away, as any dog owner will understand, but got the new puppy before he died. It was hoped that a younger dog would give Lupo some company and give him a little more life and energy."
This content is imported from Instagram. You may be able to find the same content in another format, or you may be able to find more information, at their web site.
Last summer, around the time it's believed that the Cambridge's welcomed their new companion, James shared a moving post dedicated to the litter of puppies that Lupo's nephew was a part of. While he doesn't specify which pup belongs to William and Kate, it'll be one of the six adorable little things pictured above. In fairness, we're slightly head over heels for them all. 😍
Currently, the name of the newest Cambridge pooch remains unknown, but Lupo's name translates to mean 'wolf' in Italian – so perhaps William and Kate have opted for something similar this time around too.
We bet the three Cambridge children, Prince George, Princess Charlotte and Prince Louis, are loving having a new dog in their home, especially as the elder two are currently being homeschooled!
The latest issue of Cosmopolitan UK is out now and you can SUBSCRIBE HERE.
Like this article? Sign up to our newsletter to get more articles like this delivered straight to your inbox.
This content is created and maintained by a third party, and imported onto this page to help users provide their email addresses. You may be able to find more information about this and similar content at piano.io
— to www.cosmopolitan.com