Rolls Royce has said the jobs will go at its Barnoldswick site, currently the centre of industrial action over a previous job loss announcement as it wants to end the production at its Bankfield Site of wide chord fan blades for its newer Trent engines by Autumn 2023 and shift the work to the Far East.
That decision, sparked by the coronavirus curtailing of civil air transport, affects 350 staff working on the fan blades, but it follows an announcement of 200 job losses made by Rolls Royce in Barnoldswick in June.
Now Rolls has said it wants to "consolidate the manufacture of aero-engine structures into ITP Aero" in Spain, thus shedding the 140 jobs in Lancashire. But it said it was not planning to shut the sites at Barnoldswick often called the "home of the jet engine".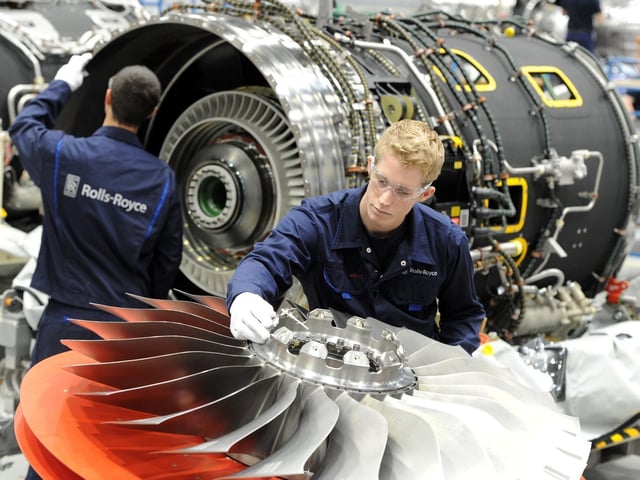 Rolls Royce has announced yet more job losses in Lancashire
The Unite union has described Rolls-Royce's announcement of fresh job losses as "choking the company's future", while the proposals to transfer or rundown parts of the business is "selling the family silver".
Chris Cholerton, president of Civil Aerospace Rolls Royce, said: "The COVID-19 global pandemic has severely impacted the whole commercial aviation industry. Due to the significant reduction in global demand from airlines for our products and services, which is forecast to last several years, we must reduce our manufacturing capacity and cost base in order to protect our remaining workforce.
"The measures we have taken so far, while significant, are not enough to off-set the continued reduction in workload across our facilities and as a result, today we are proposing to consolidate the manufacture of aero-engine structures into ITP Aero. ITP Aero, currently undergoing its own restructuring, offers a more cost competitive option than our existing structures facility in Barnoldswick, UK. We are commencing consultation on a proposal to close the structures facility on the site.
"While this will be hugely upsetting news for our colleagues in Barnoldswick, this does not mean we are closing our Barnoldswick site. Following our proposal in August to relocate part of our fan blade manufacturing, Barnoldswick will be the home of a product development and technical support centre for wide chord fan blades and continue to manufacture blades for a range of Defence and Civil Aerospace applications.
"I understand that the announcement will be hugely upsetting for our colleagues in Barnoldswick," Chris Cholerton, President – Civil Aerospace, has said today." This is a very difficult proposal to make, but we cannot afford to retain every Rolls-Royce factory that was supported by demand that has been dramatically reduced by the pandemic.
"No government support scheme can replace sustainable customer demand and no government can sign-up to extending the sort of short-term measures we have been very grateful for, over multiple years."
Pendle MP Andrew Stephenson said: "This is another massive blow for the Barnoldswick site, local workers and our local area.
"The company's highly skilled workforce gives it significant competitive advantage and once those skills are lost, they are lost for ever."
Rolls-Royce has also announced it is planning to sell its manufacturing plant in Hucknall, Nottinghamshire.
Unite national officer, Rhys McCarthy, said: "Rolls-Royce's timing of the latest round of job losses stinks, workers have been left fearing for their futures as Christmas approaches.
"This announcement will send a chill through Rolls-Royce's workers and the entire supply chain. Choking the company's future like this is clearly about pacifying the city and shareholders in the short term, while disregarding the hopes and concerns of workers and their families.
"Plans to sell the Hucknall plant and transfer work from Barnoldswick and Inchinnan is selling the family silver, the work is crucial to Rolls-Royce and the skills of the workforce are unique.
"The blame for the latest job losses must also fall on the government. Unlike other countries such as France and Germany, it has failed to provide specific support to the aerospace sector, which is resulting in job losses being far steeper in the UK than in other countries. Unite is calling on the government to immediately step in to prevent these job losses and to ensure the future of the aerospace sector in the UK."
Thanks for reading. If you value what we do and are able to support us, a digital subscription is just £1 for your first month. Try us today by clicking here