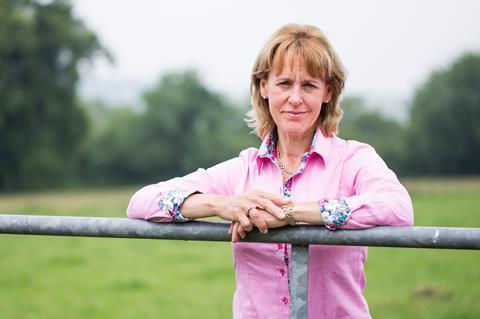 NFU president Minette Batters has urged the government to pay "meaningful" attention to the issue of food security in a speech to the NFU conference.
Batters said the country must "never go back" to being complacent about food production and supply following the panic-buying seen during the initial phase of the Covid-19 crisis.
Ahead of the government's first assessment of the UK's food security – due to take place later this year after assessments every three years were enshrined into the Agriculture Act – the NFU president spoke of the perilousness of the situation.
"There is a real risk, a genuine risk that, without care, without attention, we let Britain's food production slowly erode," she said. "Which is why it is critical that government monitors our own food security – put simply, the amount of food we produce on our own farms.
"This reporting must be a meaningful document that accurately assesses where we are now and how we are going to make improvements in the future. Let us not forget that before the 1947 Agriculture Act, Britain was just 30% self-sufficient, many in Europe were starving and in the UK food was rationed."
Batters said the government should also "stop thinking" it could achieve its aims of greening up Britain while simultaneously signing trade deals "which export degradation" to other parts of the globe.
"British farmers can set a standard of sustainability which is good for the entire planet. But we can only do that if we invest in our own food production," she said.
Pointing to a new NFU report, 'Levelling Up Rural Britain', released to coincide with the conference, Batters also called on Boris Johnson's administration to not only focus its flagship 'levelling up' strategy on the north/south divide but to also direct its efforts towards the split between rural and urban areas.
She said the food and drink manufacturing sector should be viewed as "massively important" to the UK economy.
Batters' speech also directed criticism at the "hypocrisy" of grain processors, who she claimed were undermining the "reinvigorated image" of British food brought about by the Red Tractor standard.
"Millers, compounders and crushers cannot expect British farmers to jump through ever-higher hoops and have their market undermined by mixing grain that doesn't have to meet the same stringent requirements as our farmers have to. This practice is an abuse. It must stop.
"Having built trust in the domestic market we need to retain that, and also provide a platform for export growth."
Batters' formal opening of the conference came ahead of speeches by Defra secretary George Eustice and leader of the opposition Keir Starmer.
Starmer is set to become the first Labour leader to address the NFU conference since Gordon Brown's in 2008 and is expected to attempt to boost Labour's credentials among rural voters.
Having sought to reset his leadership with a number of policy announcements in recent days, Starmer is expected to call on the government to divert more public procurement spend towards British food and drink.
He will urge Johnson's government to address grower concerns over the post-Brexit farm payment systems and to provide investment for agricultural skills.
The Labour leader is also set to announce a review of Labour's rural policy and highlight Labour's push to protect Britain's food and farming standards.
— to www.thegrocer.co.uk