European stock markets are all down this morning, as the recent rally takes a breather.
The Europe-wide Stoxx 600 has dipped by 0.5%, after global stocks fell slightly yesterday – after an 11-day run of gains (the best in three years).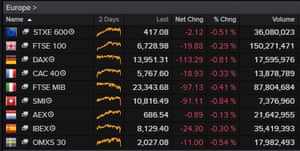 AJ Bell investment director Russ Mould says:



The FTSE 100 started Wednesday modestly on the back foot after UK inflation figures from which it was difficult to take anything tangible.

"With consumption artificially depressed by lockdown there's not a lot for the data crunchers to work with, though there are some signs that the widely anticipated increase in prices is starting to come through.

"And a surge in US Treasury yields overnight shows inflation is dominating investors' thoughts as they look for a higher rate for holding 'safe' assets like government bonds.
In the City, the FTSE 100 index of blue-chip shares has dropped by 0.3% in early trading, with inflation on traders' minds.
Financial services firm Hargreaves Lansdown is the top faller, down 6.6%, after c0-founder Peter Hargreaves cashed in £300m of shares yesterday.
Mining stocks are rising, though, with Rio Tinto up 3.7% after it reported a 21% jump in underlying earning last year – and a record dividend for shareholders.
Rio, like other miners, has benefitted from a surge in commodity prices, particularly iron ore — something that could feed into inflation.
That pursuit of iron ore led Rio to destroy a sacred site in Juukan Gorge, Western Australia. That site showed signs of continual human occupation over the last 46,000 years, and contained rare artefacts and sacred objects including a 4,000-year-old length of plaited human hair.
Several senior executives, including then-CEO Jean-Sébastien Jacques, resigned after protests over the decision.
Rio Tinto chief executive Jakob Stausholm said today:



"It has been an extraordinary year – our successful response to the COVID-19 pandemic and strong safety performance were overshadowed by the tragic events at the Juukan Gorge, which should never have happened.
UK manufacturers put their prices up last month, according to the ONS's latest survey of producer price inflation.
Factory gate prices rose by 0.4% in January, up from 0.2% in December 2020 — but they were still 0.2% lower than a year ago.
Factory bosses also reported that their import costs rose, with the price for materials and fuels used in the manufacturing process up by 1.3% on the year to January 2021, up from positive growth of 0.6% in December 2020.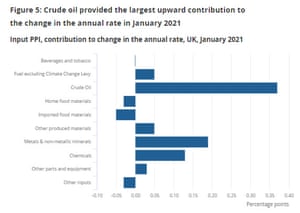 Clothing and footwear prices fell by 4.8% last month, a steep decline, amid a flurry of discounting.
The ONS says there was "a notable increase in the proportion of items marked as being discounted, particularly for men's clothing".
Jai Malhi, Global Market Strategist at J.P. Morgan Asset Management, also predicts inflation will continue to rise in 2021:



The base effects on energy and food prices will push inflation higher in the coming months and the vaccine rollout should eventually lead to a relaxation in restrictions at a time when the government's VAT cut for the hospitality sector should expire.

"A mix of supply distortions from Brexit and Covid-19, alongside a strong demand recovery, could create a recipe for higher prices across both the goods and services sectors. Inflation is likely to start testing the Bank of England's 2% target later in the year when the UK consumer is able to unleash some of the £125bn of additional savings they've accumulated during lockdowns, particularly if they run into supply bottlenecks."
Paul Dales, chief UK Economist at Capital Economics, predicts that UK inflation could hit 2% by April (which is the Bank of England's target).
He also warns that Brexit, and the rise in global shipping costs amid the pandemic, will have an upward impact on prices this year:



The rise in January is a bit of a sideshow to the probable leap in inflation to around 2.0% in April due to last year's plunge in fuel prices dropping out of the annual comparison, the temporary hospitality VAT cut being reversed and the 9.2% rise in Ofgem's utility price cap. The unwinding of the downward effects of last August's EOHO restaurant scheme will push it higher still in August. By December, CPI inflation may be around 2.5%.
We still think that a fall back in oil prices, the effects of the stronger pound and the legacy of spare capacity will drag inflation back below 2% in 2022. But the risk is that the recent spike in global shipping costs, the effect of Brexit and a desire to recoup lost revenues once businesses reopen keep it above 2.0% for longer. Even in that case, over the next few years we suspect the Bank would still prioritise supporting growth over reducing inflation.
Suren Thiru, head of economics at the British Chambers of Commerce, predicts that inflation will continue to rise.
"Post-Brexit border disruption", and rising demand as Covid-19 restrictions are eased, will both push up prices, he explains, along with a looming energy price hike in April.
Meat prices also rose in January, partly driven by "prepacked, sliced cooked ham and frozen imported lamb leg".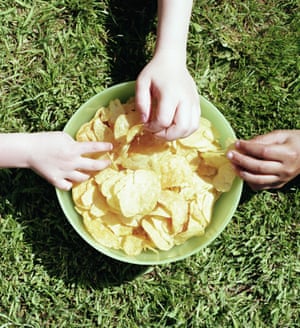 Food and non-alcoholic beverages rose by 0.6% in January, the ONS says, with vegetables and oils and fats pushed up inflation last month.
Today's inflation report explains that:



Overall prices for vegetables, in particular for premium potato crisps and cauliflowers (which were heavily discounted in December 2020), rose between December 2020 and January 2021, while they were unchanged between December 2019 and January 2020.

With oils and fats, prices overall fell by 8.9% between December 2019 and January 2020 but fell by only 0.2% between December 2020 and January 2021.
[are crisps really vegetables? I don't think they count as one of your five a day….]
Fish prices also rose, increasing by 1% between December 2020 and January 2021, the ONS adds:



The largest price increases were for frozen fish fingers and prawns, and fresh salmon fillets.
Confectionary prices also rose, driven by boxes of chocolates (also not one of your five a day!).
Updated

A surge in demand for new furniture from locked-down families may have contributed to the rise in inflation.
The Office for National Statistics reports that there was "reduced discounting to prices of leather settees and double beds" in January, adding:



There were smaller upward contributions across the household textiles; household appliances, fitting and repairs; and glassware, tableware and household utensils groups, with the only standout movements coming from fitted sheets and duvets.
Furniture makers reported last year that demand was at unprecedented levels, with some households splashing out on new sofas and beds.
This chart shows how prices changed in January — with furniture, food and transport pushing the inflation rate up, while clothing and shoes were discounted in the sales: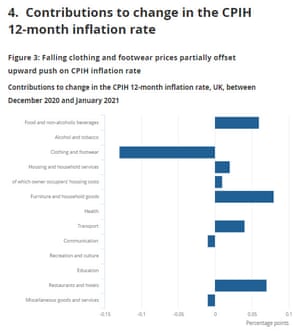 UK inflation rate rises to 0.7%
Good morning, and welcome to our rolling coverage of the world economy, the financial markets, the eurozone and business.
We start with inflation, which has risen again in the UK.
The consumer prices index rose to an annual rate of 0.7% in January, up from 0.6% in December. That's a little higher than economists had expected.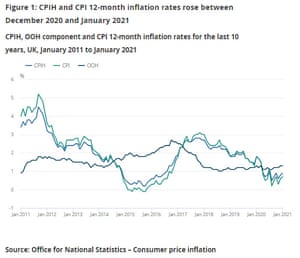 The Office for National Statistics reports that furniture and household goods, food, and transport all pushed up the cost of living last month.
Restaurants and hotels also lifted the rate of inflation, the ONS says, although many would of course have been closed during the lockdown.
Falling clothing and footwear prices had a downward effect on inflation, though, as retailers slashed prices in the January sales.
More broadly, the prospect of inflation jumping as the world economy unlocks is weighing on investors mind's today.
Overnight, the yield- or interest rate – on US 10-year government bonds hit a one-year high of 1.3%. That suggests that the markets are anticipating a rise in inflation, and looking for a higher rate of return for holding safe-haven assets.
Especially with some households having built up savings pots, and the Biden White House pushing for a major stimulus package to drive a recovery.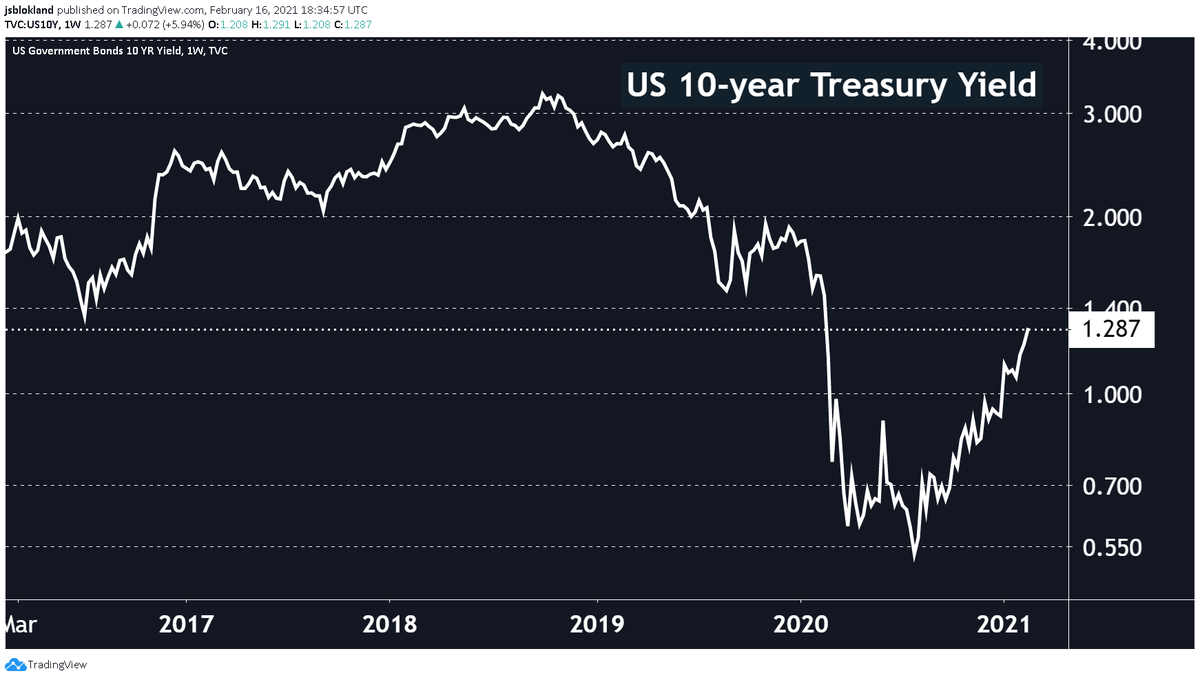 Rising government bond yields can unnerve the markets, as Michael Hewson of CMC Markets explains:



Combined with sharp rises in energy and commodity prices there is rising concern that higher prices will not only choke off any post pandemic recovery, due to higher borrowing costs, but they could also crimp future consumer spending due to higher living costs.

This caution appears to be manifesting itself into this morning's European open, which looks set to be a mixed one, with Asia markets also trading in a similar fashion.
The agenda
7am GMT: UK inflation report for January
9.30am GMT: UK house price report for December
Noon: US weekly mortgage applications
1.30pm GMT: US retail sales for January
2.15pm GMT: US industrial production for January
Updated

— to www.theguardian.com