The 20ft-wide flag, which flew at the top of the Tower in May last year, signified the resort's appreciation of medics' selfless work during the pandemic.
Dave Nelson, 56, a press photographer from Poulton, designed the flag after driving around the Fylde coast and posting notes through letterboxes of homes displaying rainbow pictures.
The Duchess of Cambridge. Kate Middleton. has since voiced her praise for the flag in a private letter to Mr Nelson, thanking him for his support for the 'Hold Still' photography project she spearheaded.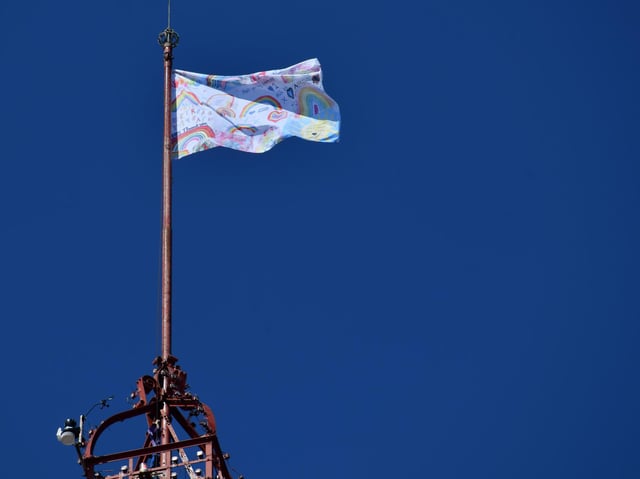 An NHS appreciation flag, designed by press photographer Dave Nelson from Poulton, has been given the royal seal of approval from the Duchess of Cambridge Kate Middleton. Photo: Dave Nelson
"My brother Darren and I decided to drive round the Fylde coast randomly choosing rainbow pictures in people's windows," Dave said.
"I stuck a note through their doors and asked them to send me a picture of it from their phones, and then I had them all made into a huge flag.
"It was done as a way of showing Blackpool's appreciation for emergency and health workers, and what better way of shouting it from the rooftops than flying it from one of the most famous buildings in the country?"
The Hold Still photography project, led by the Duchess of Cambridge via the National Portrait Gallery, was a community project to create a unique collective portrait of the UK during lockdown.
Dave Nelson and his brother Darren drove round the Fylde coast during the first pandemic lockdown, looking for rainbow pictures in windows to design into a flag, which was flown from the top of the Tower. Photo: Dave Nelson
It invited members of the public to submit photo portraits – but a 20ft-wide flag would have been difficult to post.
Instead, Dave wrote to the Duchess to make her aware of the resort's collective efforts to thank the nation's medics – and a letter from Kensington Palace arrived yesterday, thanking him for the support.
"I thought I'd make Kate aware of what we did, because I knew she would be in full support of it," Dave continued.
"I was hoping she would respond back, because it legitimises what the town did, even though I couldn't put a piece of artwork up myself.
"I was very proud of the town and what everyone did.
"What I'd love now is for the flag to be kept as a historical object in a museum, so in five, ten, even fifty years time people can look back and see how Blackpool showed its support during one of the biggest global health emergencies in history."
— to www.blackpoolgazette.co.uk