Tens of thousands of people have rallied in solidarity, in dozens of towns and cities across France, after a secondary schoolteacher was beheaded in an attack that has shocked a country already shaken by terrorist atrocities.
Demonstrators gathered on Sunday in cities including Paris, Lyon, Toulouse, Strasbourg, Nantes, Marseille, Lille and Bordeaux in support of free speech and in tribute to Samuel Paty, who was killed outside his school on Friday after discussing caricatures of the prophet Muhammad with his class.
Leading politicians, civil rights associations and teachers' unions rallied on the Place de la République in Paris holding placards proclaiming "Je suis Samuel", an echo of the "Je suis Charlie" slogan following the 2015 attack in which Islamist gunmen killed 12 people at the offices of the satirical newspaper Charlie Hebdo.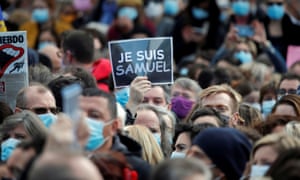 Others held…
— to www.theguardian.com