Northern Ireland's chief medical officer has said some coronavirus restrictions may have to remain in place until next year.
Dr Michael McBride likened the new UK variant of the virus to "a finely tuned sportscar", which he said will accelerate quickly if restrictions are eased too soon.
He said it might not be possible to lift all restrictions until "70 to 80%" of the population has been vaccinated.
Around 22% of adults in Northern Ireland have received a first dose of a Covid-19 vaccine.
"If you want to talk about spring next year and 2022, I think that there will be some of the restrictions, not all of the current restrictions, but there will still need to be some restrictions in place," he said.
Speaking during a weekly media briefing, the chief medical officer said that if case numbers continue to fall "we will hopefully be able to do some things this summer like we did last summer".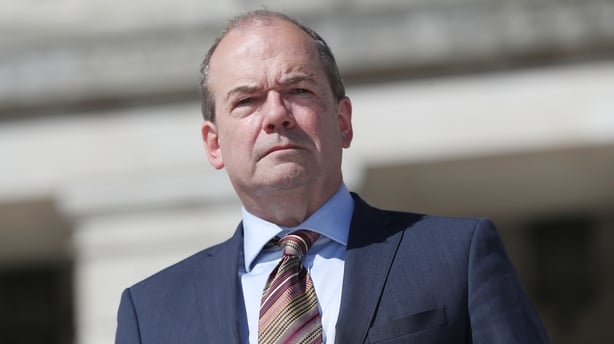 But he warned that people need to be realistic about the timescale for lifting restrictions.
"Hopefully some of the most difficult aspects of the restrictions will begin to ease into next year, certainly before that," he added.
"But there will be some elements which I think we will have to keep in place for, for some time.
"I think there is no doubt that as we vaccinate more people that the need for restrictions will become less, but I think that's over a six to nine month timeframe, that is not over the next three months.
"There will need to be a very gradual easing of any current restrictions, an assessment over a two-week period of what the impact might be, and then slowly, gradually, carefully, further incremental relaxations.
"It is not at this time. We need the community transmission levels lower, we need fewer people in our hospitals and less pressure on our hospital system, and we need more people who are at risk of this disease vaccinated."
Dr McBride's warning comes as a further 10 coronavirus deaths have been recorded in Northern Ireland.
Six of the deaths occurred during the past 24 hours. It takes the official Department of Health death toll to 1,953.
There are also 275 new cases from tests on 1,663 individuals. That is the lowest number of new cases in a 24-period since 1 October.
There are 579 confirmed coronavirus patients in hospital, with 60 in ICU, 57 of whom are on ventilators.
The average seven-day infection rate per 100,000 people in Northern Ireland is 142.7.
The area with the highest rate remains Mid Ulster on 252.8, and the lowest remains Lisburn and Castlereagh on 79.2.
The Department of Health confirmed that as of Tuesday 9 February, 345,195 Covid-19 vaccines have been administered.
LATEST #COVID19 VACCINE UPDATE FOR NI:

345,195 vaccines have been administered, of which 317,606 were first doses and 27,589 were second doses. pic.twitter.com/JzGFX5DrLF

— Department of Health (@healthdpt) February 9, 2021
317,606 were first doses and 27,589 were second doses.
Patricia Donnelly, who leads Northern Ireland's vaccine programme, said the vaccination of those aged over 75 is almost complete.
She said clinically vulnerable 16 to 18 year olds could be vaccinated within a matter of weeks.
Declan Bradley, the Stormont's deputy chief scientific adviser, stressed the need to continue limiting social contact.
"It is so important that we make choices that avoid social contact where it can be avoided, because the social contact is the accelerator that drives this epidemic," he said.
"We have such momentum at the minute, that the epidemic is slowing down gradually, but driving the epidemic with our foot on the accelerator of social contact will absolutely [bring] the epidemic back to reality very, very quickly."
— to www.rte.ie