The news followed a series of embarrassing gaffs on both of the navy's new 65,000-tonne supercarriers, HMS Queen Elizabeth and HMS Prince of Wales.
In October, the newest carrier Prince of Wales suffered its second leak of the year, with water flooding an engine room and causing millions of pounds worth of damage.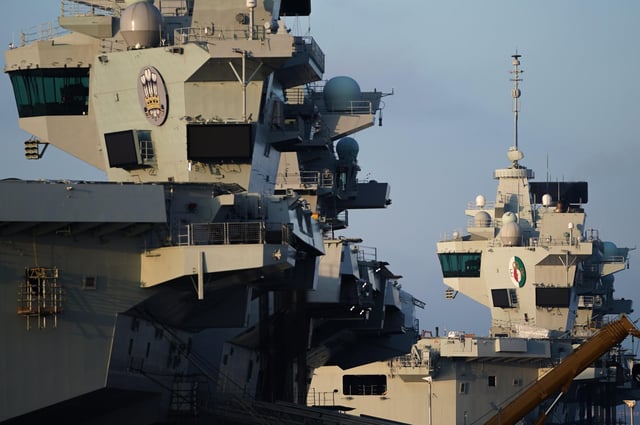 The towers of HMS Prince of Wales (left) and HMS Queen Elizabeth (right) are seen on December 30, 2019 in Portsmouth. (Photo by Peter Summers/Getty Images)
HMS Queen Elizabeth was hit by her own flood in July 2019, when water from a ruptured pipe gushed out into the £3.2bn ship, rising to 'neck height' in some compartments.
Now defence minister Jeremy Quin, who is in charge of buying all of Britain's military hardware, has broken down the repair bill – and revealed how much it has cost to maintain both ships over 2020.
It came following a probe from shadow armed forces minister and Portsmouth South MP, Stephen Morgan, who demanded what the cost to the 'public purse' had been.
Aircraft carrier HMS Prince of Wales has arrived in Liverpool in a demonstration in February 2020 and, inset, a picture of the flood in the ship's engine room in October.
HMS Queen Elizabeth, which went to sea twice during 2020, was the most expensive to fix up, with the maintenance bill along costing £18m.
Meanwhile, repairs to the vessel hit £3.5m – with an additional £2m to pay for 'engineering supervision for maintenance and repair', taking the total cost to £23.5m.
Prince of Wales's maintenance bill accounted for £11m over the past 12 months. The amount to repair the ship was £2.5m with a supervision cost of £2m.
Mr Quin said maintenance work on both ships included the completion of safety and environmental upkeep tasks, routine repairs to flight deck coating and markings as well as funding replacement of 'lifed items'.
He added: 'Repair activities encompass the rectification of operational defects as and when those occur. Operational defects can vary in their categorisation and severity, covering minor ancillary components through to major defects.
'We do not release more detailed information relating to operational defects as this would allow deductions to be made about a ship's capability and may affect operational security.'
He continued: 'The costs of the repairs to HMS Prince of Wales as a result of the flooding incident in October 2020 will largely be accounted for in this calendar year.'
A message from the Editor, Mark Waldron
The News is more reliant than ever on you taking out a digital subscription to support our journalism.
You can subscribe here for unlimited access to Portsmouth news online – as well as our new Puzzles section.
— to www.portsmouth.co.uk