Editor's note, 12 February 2021: This article was updated with today's daily data.
These are the UK coronavirus stories you need to know about today.
Vaccination Target
The UK looks to be on course to meet the goal of booking first dose vaccinations for the JCVI priority groups 1-4 by 15 February.
As of yesterday, 14m people have had a first dose of a COVID-19 vaccine, and 530,094 a second dose.
Wales claimed to be the first nation to meet its target. However, Health Minister Vaughan Gething said: "Not everyone in these groups will have attended their appointment yet, some will not have responded and some will have chosen not to have the vaccine."
The Welsh Government said arrangements are in place "to make sure no one is left behind" if someone missed an appointment or changed their mind.
NHS England has told GPs they can begin vaccinating 65-69 year olds if they've done all they can to reach higher priority groups.
One Kent GP, @yvettedoc50 on Twitter, yesterday reported being blocked from moving on to other groups: "…we have a few in the group 1-4 outstanding-many through their own choice/transport issues/COVID symptoms etc. This shouldn't be stopping us… Angry face."
Latest Office for National Statistics (ONS) social impact data show fewer than 1% of respondents had been offered a vaccine but turned it down.
Jabs 'Reducing Deaths'
A modelling study published in Anaesthesia suggests the vaccination programme is already reducing daily deaths.
However, for hospital and ICU admissions, the authors write: "These will not decrease substantially until late March, with reductions continuing throughout April."
They add: "The early prioritisation of healthcare staff and clinically vulnerable patients is likely to increase the impact of vaccination on hospital and ICU admissions and to also protect the healthcare service. An inflection point, when 50% of the adult population has been vaccinated – and when deaths have been reduced by 96% and hospital admissions by 80% – may be a useful point for re-evaluating vaccine prioritisation."
President of the Association of Anaesthetists, Dr Mike Nathanson, commented: "With the acute care sector so busy, it is very likely that elective care cannot restart until after Easter at the earliest. The many, many patients whose surgery is on hold will continue to wait."
R Below 1
The UK's R number is now back below 1 for the first time since last July and is now 0.7 to 0.9, and the growth rate is -5% to -2% per day.
The latest data from the ONS infection survey for the week to 6 February show:
The percentage of people testing positive in England has continued to decrease with around 1 in 80 people having COVID-19

The percentage of people testing positive in Scotland decreased with around 1 in 150 people having COVID-19

The percentage of people testing positive in Wales has decreased with around 1 in 85 people having COVID-19

The percentage of people testing positive in Northern Ireland continues to decrease with around 1 in 75 people having COVID-19
Sarah Crofts from ONS said: "Rates of infection remain high but have continued to decrease in England and across the UK, with Wales, Northern Ireland and Scotland all seeing decreases in the estimated percentage of people testing positive for COVID-19.
"The percentage of positive cases compatible with the new UK variant also continues to decrease in all regions of England except for Yorkshire and The Humber, the East Midlands and the South West where trends remain uncertain."
In today's daily data another 15,144 UK positive tests were reported and 758 deaths.
The number of confirmed cases since the outbreak began passed 4m today and is now 4,013,799.
Another 1908 COVID-19 patients were admitted to hospital. The total is now 24,352, and 3036 ventilator beds are in use.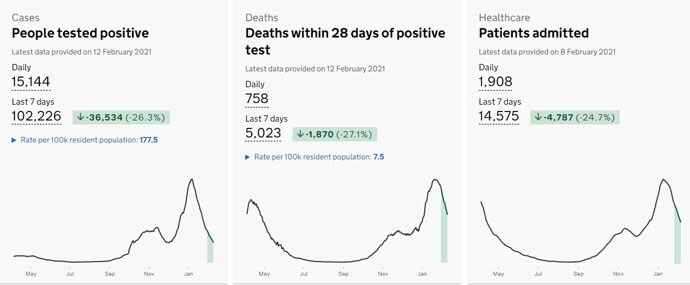 Source: Gov.uk
Hotel Quarantine
The UK took advice from Australia before deciding on the hotel quarantine restrictions for 'red list' country travellers from Monday.
The Australian state of Victoria had been mostly COVID-free recently but is starting a 'circuit breaker' lockdown today after an outbreak of the UK virus variant linked to a Melbourne quarantine hotel worker. Premier of Victoria Daniel Andrews said: "In short: this hyper-infectious variant is moving at hyper-speed."
The BBC reported on the differences between the UK and Australian approach. For example, Australian passengers have to stay in their rooms at all times but UK guidance says security staff can accompany people outside to exercise but not to smoke.
There were concerns virus particles could be transmitted between rooms if doors in the same corridor were opened at the same time for meal deliveries.
Blood Thinners
Giving prophylactic anticoagulants within 24 hours of admission to hospital reduces deaths among COVID-19 patients, according to a London School of Hygiene & Tropical Medicine study of US data published by The BMJ .
Analysis covered 4297 patients with an average age of 68, and 93% male admitted to hospital between March and July last year.
Age, ethnicity, underlying conditions, medication history, weight, and smoking status were taken into account.
Death at 30 days was 14.3% among the patients who received prophylactic anticoagulation compared with 18.7% among those who did not. That's a relative risk reduction as high as 34% and an absolute risk reduction of 4.4%.
The benefit appeared to be greater among patients not admitted to ICU within 24 hours of hospital admission and anticoagulation was not associated with an increased risk of serious bleeding.
The authors wrote that these findings "provide strong real world evidence to support guidelines recommending the use of prophylactic anticoagulation as initial treatment for patients with COVID-19 on hospital admission".
Commenting via the Science Media Centre, Dr Mark Skidmore, senior lecturer in biochemistry, Keele University, said: "This is in line with what has been observed. Furthermore, the WHO has recently made an official recommendation for the use of thromboprophylaxis dosing of anticoagulants. Randomised trials are indeed pending but there seems to be strong evidence supporting the use of heparin and associated drugs in COVID-19 patients."
Hydroxychloroquine
An international Cochrane Review with authors from the Liverpool School of Tropical Medicine, University of Liverpool, and Royal Liverpool University Hospital, confirmed that hydroxychloroquine does not reduce deaths from COVID-19.
The review concludes: "HCQ for people infected with COVID‐19 has little or no effect on the risk of death and probably no effect on progression to mechanical ventilation. Adverse events are tripled compared to placebo, but very few serious adverse events were found. No further trials of hydroxychloroquine or chloroquine for treatment should be carried out.
"These results make it less likely that the drug is effective in protecting people from infection, although this is not excluded entirely. It is probably sensible to complete trials examining prevention of infection, and ensure these are carried out to a high standard to provide unambiguous results."
Senior author Dr Tom Fletcher commented: "This review certainly should put a line under using this drug to treat COVID-19, but some countries and health providers are still caught up in the earlier hype and prescribing the drug. We hope this review will help these practices end soon."
Referral Delays
A survey of 688 GPs for the Medical Protection Society (MPS) found 77% are worried about being investigated if patients come to harm due to delayed referrals or limited non COVID-19 services.
MPS Medical Director, Dr Rob Hendry, commented: "We have called for emergency laws to protect healthcare workers from unfair investigation since the start of the pandemic and recently urged the Government to introduce the legislation without delay to protect those at risk of inappropriate legal challenge following difficult decisions on how limited resources are allocated in hospitals."
COVID or Brexit?
Young adults (18-29) are more worried about Brexit (42%) than catching COVID-19 (32%), according to UCL's continuing COVID-19 Social Study.
Lead author, Dr Daisy Fancourt, said: "It is not surprising that younger people are most worried about the impact of Brexit. A greater proportion of younger people voted to Remain than to Leave in the 2016 Brexit referendum and the ongoing news about the ramifications of leaving the EU for jobs, finances, and businesses is likely to have a greater impact on younger people. There is also the perception among younger people that they are at lower risk from COVID-19 and that even if they do catch the disease, they are unlikely to become seriously ill.
"On the flip side of this, older people are less likely to have been affected by the new arrangements since the Brexit transition period ended but are at a higher risk of becoming seriously ill from COVID-19, leading to greater stress around catching the disease and reduced worry about Brexit."
Smart Hand Sanitisers
Hand santisers could be keeping tabs on your hand hygiene in future.
The Universities of Sheffield and Leeds are studying smart hand sanitisers.
As well as dispensing santiser, the Savortex devices collect data on how often the machines are used, and can send out reminders to staff. Anyone not sanitising could be blocked from accessing certain areas.
Dr Sophie Rutter from Sheffield's Information School, said: "In many sectors, such as healthcare, staff are compelled as part of their job to clean their hands regularly for obvious reasons of patient safety, but as we don't really know what motivates people to wash their hands in office spaces, it can be difficult and expensive for employers to run health and safety campaigns to encourage people to follow health and safety guidance."
See more global coronavirus updates in Medscape's Coronavirus Resource Centre.
— to www.medscape.com