People with underlying health conditions are set to be moved up the vaccination priority list under a plan being worked on by Government this weekend.
More than 370,000 people aged between 18 and 64 were ranked at number seven in the initial vaccination allocation list announced late last year.
However, there is a strong view in Government that this needs to change given that thousands of people in this group have not left their homes in almost a year amid fears that they could get the virus.
The Minister for Health, Stephen Donnelly, has now received updated advice on the matter from the National Immunisation Advisory Committee.
A memo is now being drafted and is likely to go to a meeting of Cabinet on Tuesday.
While work on the revised list is still ongoing there are indications that those with health issues could be listed as the next priority group after the over 70s have been vaccinated.
These health conditions include diabetes, cancer, and heart, kidney, neurological and respiratory diseases.
However, the criteria for moving up the list will be based on clinical advice and evidence of a higher risk of severe illness and it will not include all underlying health conditions.
26 deaths, 988 new cases
The Department of Health has been notified of 26 further deaths associated with Covid-19.
24 of the deaths occurred this month, with one in January and one in October.
The youngest of the 26 people was 58, while the oldest was 98. The median age of deaths was 81.
There have now been a total of 4,135 Covid-related deaths since the outbreak began.
The Department of Health has also reported 988 additional cases of the virus, bringing the total number of confirmed cases to 214,378.
70% of the cases reported are under the age of 45, while the median age is 32.
378 of the cases are in Dublin, with 68 in Galway, 61 in Kildare, 47 in Limerick and 45 in Louth. The remaining 389 cases are spread across all other counties.
As of 8am this morning there were 719 people with Covid-19 in hospital, with 149 of these being treated in intensive care units. This is down two from yesterday evening.
310,900 vaccine doses were administered as of Wednesday 17 February. 197,600 people have received a first dose of a Covid vaccine, with 113,291 of these people also getting their second dose.
Another three Covid-related deaths have been reported by the Department of Health in Northern Ireland, while 276 people have tested positive.
The vaccination roll-out in Northern Ireland continues apace, with the Northern Health and Social Care Trust, which covers approximately 470,000 people, saying it had vaccinated 50,000 people since December.
The Department of Health is further extending Northern Ireland's Covid-19 vaccination programme to include all carers aged 50 or over.
The programme is ahead of schedule.
---
---
The National Immunisation Advisory Committee is understood to be making a number of considerations this weekend, which will have to be decided upon by the Government.
The head of the vaccine task force, Professor Brian MacCraith, said that issues being considered include prioritisation for vulnerable people who have various medical conditions and the use of vaccines for "other cohorts".
Professor Brian MacCraith said that as before, the taskforce will "adjust the programme" as new policy decisions are made.
The Chief Executive of the HSE, Paul Reid, said NIAC is looking at sequencing of the groups that are next in line for the vaccine and what the priority is around that.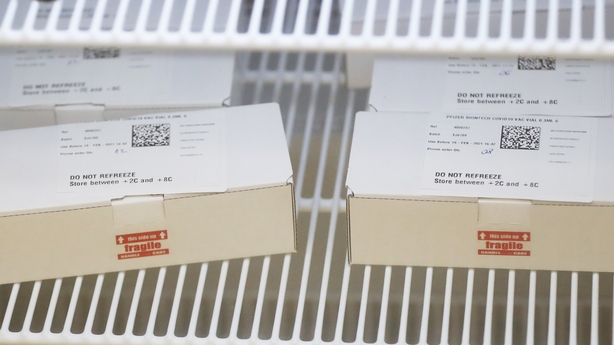 "We are all very anxious to make sure that people with various chronic illnesses are addressed as soon as possible," he said, adding that he expects Government to make a decision on this on Tuesday.
The Government is also set to make decisions in the coming days on extending supports for those out of work and for businesses.
This will form part of the refreshed Living with Covid plan that will be published next week.
While still the subject of discussion it's anticipated that these supports will continue until the end of June.
This is likely to lead to a considerable draw down on the Government's €5.4 billion contingency fund.
Sinn Féin's health spokesperson David Cullinane has welcomed the development, saying he raised the matter in the Dáil earlier this month.
However, he added that he is "deeply concerned by the fact that family carers are still not treated as a priority group".
The Waterford TD said this was "unacceptable".
— to www.rte.ie