People travelling from Northern Ireland are being turned back at the border if they do not have an essential reason for travel.
A number of Garda checkpoints are operating along the border to enforce the new Covid-19 regulations.
People living in Northern Ireland who cross the border without a reasonable excuse face a €100 fine.
One checkpoint, near Emyvale on the Tyrone-Monaghan border, had seen three motorists turned back this morning.
Inspector Adrian Durcan from the Monaghan Garda Station said no fines have been issued so far, but that some people have been turned back.
He said: "We have engaged with a few people who have not had essential reasons and on the advice of the guards, they have turned back.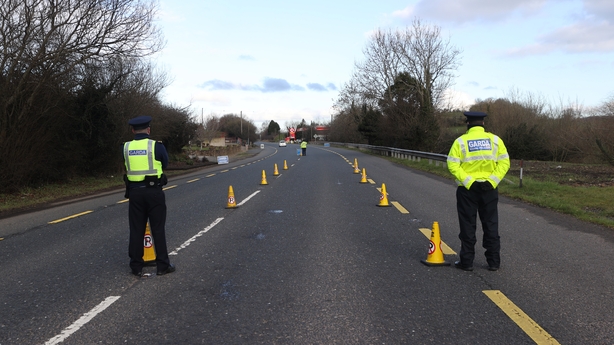 "People have turned back when requested. I think it was three so far this morning."
He said gardaí would issue fines to those not complying with the regulations and follow up through court summons.
"They will receive the fine and have 28 days to pay the fine. Failure to pay that fine will result in a court appearance," he said.
"If they don't pay it we will issue a summons in respect of the offence and we will follow through on that summons.
"We would have no concerns at the minute other than to ensure that people have an essential reason to travel.
"We're here to encourage them and to explain to them that unless they are essential reasons we will be issuing fines."
---
---
He added: "At the minute we have had excellent compliance from the majority of people and we thank them for that.
"But there's still a minority of people who are not complying with the regulations and we're here to ensure that these breaches aren't reoccurring."
The new measures apply to anyone who is "not ordinarily resident" in the Republic of Ireland.
If gardai stop a car with a driver and two adult passengers for example, then each of the three adults will receive a fine of €100.
Under Level 5 restrictions, travel is restricted to within 5km of a person's home except for essential reasons.
Around 4,600 people have been fined for breaching Covid-19 regulations, with around 3,500 fines issued for non-essential travel, including around 375 for non-essential journeys to airports/ports.
People travelling to an airport or port to take a holiday abroad are liable for a €500 fine for undertaking a non-essential journey.
The Government has advised against all non-essential travel.
Minister for Housing Darragh O'Brien said it is likely that stricter measures on international travel will remain in place for the foreseeable future.
He said that while Ireland "wants to get to a situation where life returns to normal as soon as possible" later this year or early next year, in the short to medium term the Government will work to protect the country and take whatever measures are required to do that.
Speaking on RTÉ's Today with Claire Byrne, he said the continued suppression of the virus and rollout of vaccine are the key responses to the virus.
On reports that some UK holidaymakers are using Dublin to transit from Dubai to avoid British restrictions, Mr O'Brien said closing airline routes from Dubai to Dublin is not an option as that route is is an important access route to Australia and China.
— to www.rte.ie