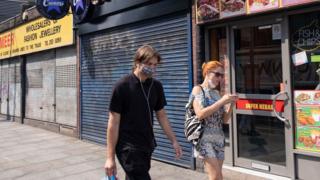 Grants for English firms forced to close in local lockdowns "will not be enough" to bail them out, industry bodies have warned.
The government unveiled the grants – worth up to £1,500 every three weeks – on Wednesday, amid warnings of rising coronavirus infections.
Chief Secretary to the Treasury Stephen Barclay said they would be a "lifeline" for struggling firms.
But the British Chambers of Commerce (BCC) said more help was needed.
This week, restrictions were tightened in Bolton and Caerphilly amid spikes in infections. It follows local lockdowns in other areas including Leicester, Burnley, Hyndburn and Stockport.
But there have been complaints that firms in such areas get no extra support, despite having to shut their doors to the public.
Mr…