The deputy first minister has said that the Scottish Government 'doesn't want' to close the border between Scotland and England as part of the country's attempts to drive down the level of Covid-19.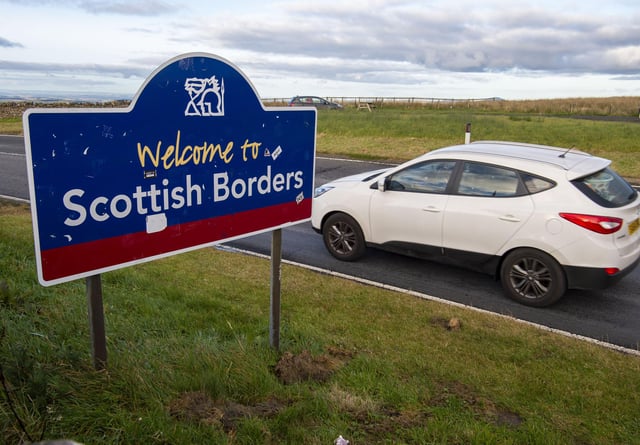 John Swinney refused to rule out shutting the Scotland/England border.
In response to questions on the BBC's The Sunday Show about why Scotland is unlikely to align itself with England on plans to relax lockdown restrictions, John Swinney refused to commit to not shutting the border.
Asked "will you close the border if you have to", Mr Swinney said: "we obviously don't want to do anything of that type."
He added: "The border is a practical border that has to be crossed many times a day for essential purposes.
"If we all, however, take an approach which is designed to suppress the virus to the lowest level possible then that will put us in the strongest position to make sure we are protecting the public."
The Scottish Government is set to announce its latest version of the strategic framework which will plot a route out of lockdown and the slow relaxation of Covid-19 restrictions.
It will come in the same week Boris Johnson is expected to announce his version, with a likely move towards a 'managed' policy rather than the Scottish Government's preferred 'suppressed as low as possible' strategy.
Asked how such a difference in lockdown policy could work with an open border, Mr Swinney said it would leave Scotland "susceptible" to another wave of Covid-19.
He said: "The danger of that type of strategy is that it leaves you susceptible to the virus potentially running away from you and we want to avoid that at all possible costs.
"We saw over the period of about a week at Christmas time the degree to which the virus can absolutely gallop away from us and we want to avoid that because we want to avoid another period of lockdown."
Mr Swinney, who is also education secretary, said the four nations were "trying to cooperate" and align with each other on key issues, but said the governments "accept and respect" the fact different decisions will be made by each government.
The deputy first minister was pressed on why four nations alignment was deemed to be crucial on issues such as hotel quarantine, but not on easing lockdon.
He said: "It's important on quarantine because we want to take the most robust measures possible to minimise the risk of importation of the virus because we know from last summer and early autumn that importation of the virus was what refueled the virus within the country and we want to avoid that at all possible costs.
"So the type of practical measures we think are necessary on quarantine we would like the UK Government to follow as well because we think that would protect absolutely everybody within the UK.
"When it comes to relaxing lockdown, we have got to take our own decisions based on the science, based on the evidence and based on our own judgement about what is the right step to take for our own community.
"We want to get back to normal life as quickly as possible, but we want to make sure that we've suppressed the virus to the lowest level possible and to keep it there."
A message from the Editor:
Thank you for reading this article. We're more reliant on your support than ever as the shift in consumer habits brought about by coronavirus impacts our advertisers.
If you haven't already, please consider supporting our trusted, fact-checked journalism by taking out a digital subscription.
— to www.scotsman.com