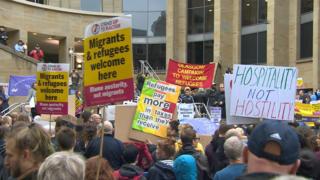 The company responsible for housing asylum seekers in Glasgow is likely to still be using hotels for accommodation at the end of this year, BBC Scotland has learned.
Mears moved about 350 asylum seekers from flats into hotels at the start of the Covid-19 pandemic.
It did start moving some asylum seekers back into flats last month.
However, BBC Scotland has seen an email which said it will still be using hotels at the end of the year.
Charities have repeatedly raised concerns about the mental health of asylum seekers living in Glasgow hotels.
In May, a Syrian man named Adnan Elbi is believed to have taken his own life and the following month Badreddin Abadlla Adam stabbed six people before he was shot dead by armed police at the Park Inn Hotel in the city.
Mears has…