Infections among people who inject drugs in the UK: annual report summary
Shooting Up, the annual report on infections among people who inject drugs (PWID) in the United Kingdom, has been published by Public Health England. It was produced in collaboration with Public Health Scotland, Public Health Wales, and Public Health Agency Northern Ireland.
PWID are vulnerable to a wide range of blood-borne viral and bacterial infections, which can result in high levels of morbidity and mortality. Shooting up: infections among people who inject drugs in the UK, 2019 (updated in December 2020) describes infections and associated risks and behaviours among PWID in the UK to the end of 2019 and presents preliminary data on the impact of the coronavirus pandemic during 2020.
Key messages from the report
HIV infections and outbreaks continue to occur among PWID, although prevalence in this group remains comparatively low (0.82% in England, Wales and Northern Ireland and 3.8% in Scotland). It is important that testing for HIV is offered regularly to all those at risk and that care pathways for those with HIV are optimised and maintained.
Hepatitis B (HBV) remains uncommon in PWID (9.5% in England, Wales and Northern Ireland). However, HBV vaccine uptake has plateaued in recent years at 73%. Vaccination levels continue to be particularly low in younger age groups (57% of those aged under-25 vaccinated) and recent initiates to injecting (49% vaccinated).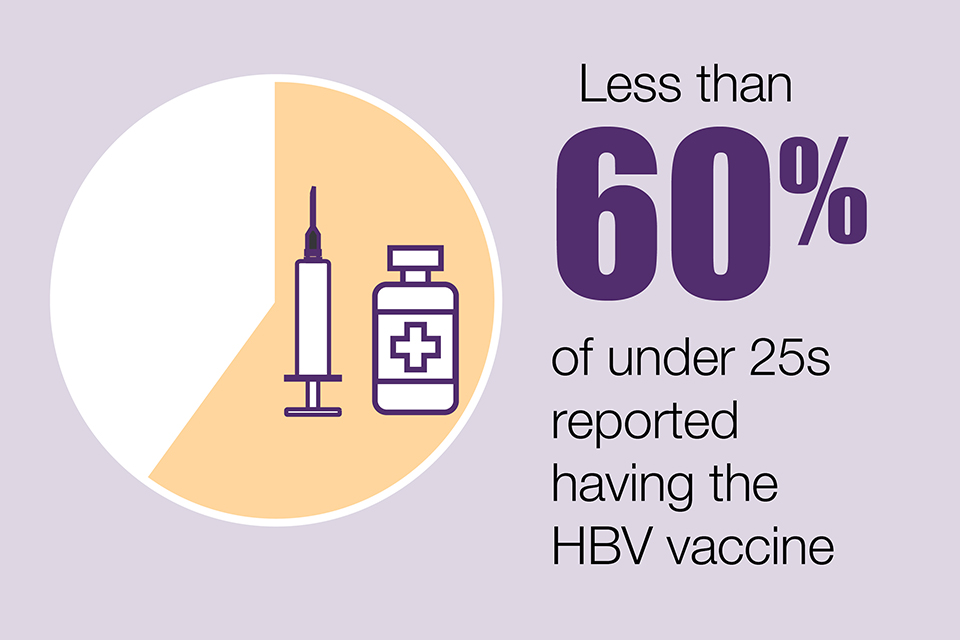 Hepatitis C (HCV) continues to be a major problem among PWID in the UK, with around 1 in 4 currently infected with HCV – and no evidence of a reduction in new HCV infections over recent years. There is early evidence for a modest reduction in chronic HCV prevalence, associated with the scale-up of direct acting antiviral treatment among PWID. It is of utmost importance that diagnostic testing services and care and treatment pathways for those infected are continued and optimised to meet the needs of PWID.
Serious bacterial infections in PWID have, for the large part, been increasing in the UK since 2013. In 2019, there were 234 invasive group A streptococci cases associated with injecting drug use, as well as 50 meticillin-resistant Staphylococcus aureus (MRSA) and 459 meticillin-sensitive Staphylococcus aureus (MSSA) cases. To prevent rates of bacterial infections increasing, provision of low threshold and outreach wound care services, as well as prompt treatment for injection site infections and tetanus vaccination is necessary.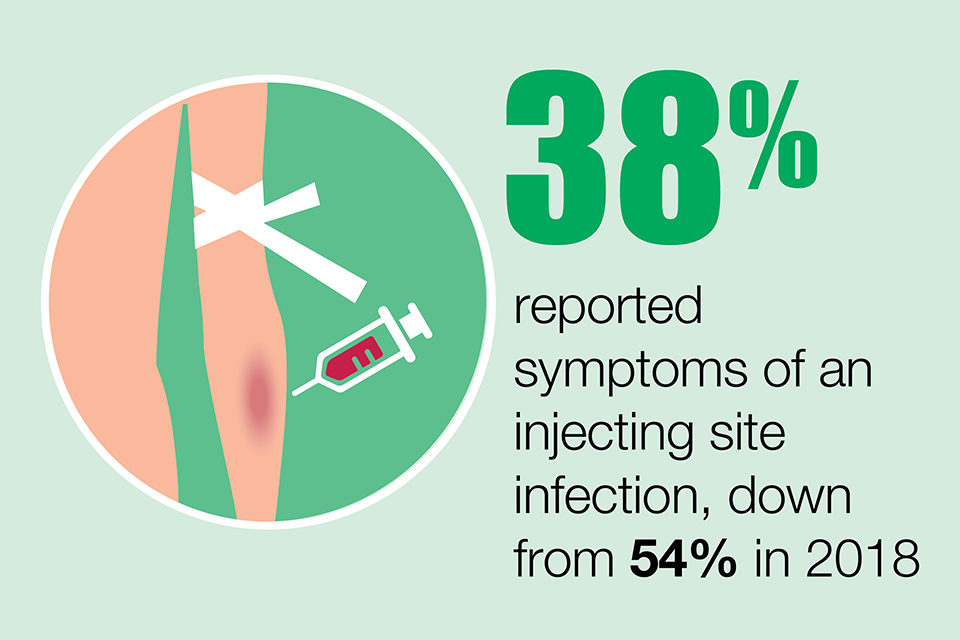 The continued sharing and re-use of injecting equipment remains a concern. Sharing of needles, syringes and other injecting paraphernalia, such as filters and spoons, was reported by 2 in 5 PWID in England, Wales and Northern Ireland and 1 in 5 PWID in Scotland. Adequate provision of new, sterile injecting equipment is vital to reduce sharing and re-use and the associated risks. Interventions to prevent blood-borne virus infections among PWID, such as needle and syringe programmes (NSP) and opioid substitution therapy (OST) and other drug treatment need to be sustained and monitored to ensure equitable access for all.
Changes in psychoactive drug preferences could lead to riskier injecting practices. Crack cocaine injection in England and Wales remains high at 57% among PWID who had injected in the preceding 4 weeks. More common in Scotland, injection of powder cocaine continues to rise to 37% among people who injected in the last 6 months – up from 9% in 2010.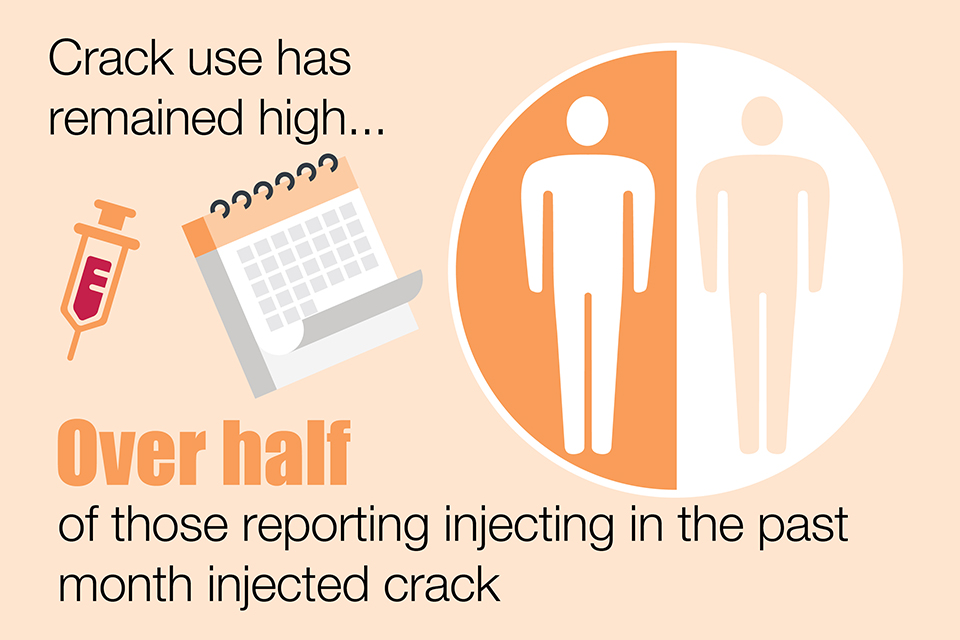 Impact of COVID-19
Preliminary data from 2020 suggest that PWID from England, Wales and Northern Ireland are at risk of coronavirus disease (COVID-19) and hospitalisation. One in nine PWID surveyed between June and October 2020 reported COVID-19 symptoms – a third of PWID attended hospital for these symptoms. For some PWID, the pandemic has also resulted in a change in drug choice and/or frequency of use. It will be crucial to monitor trends in COVID-19 and health outcomes among this cohort to understand whether PWID are disproportionately affected by the disease compared to the general population.
Despite disruption in services for PWID as a result of COVID-19 in 2020, novel approaches to service delivery were implemented to ensure continuity of access to interventions. However, preliminary data indicate that 1 in 5 PWID found it more difficult to access HIV and viral hepatitis testing – 1 in 4 PWID found it more difficult to access injecting equipment in 2020 than in 2019. Continued monitoring is needed to understand the impact of COVID-19 on national HIV and HCV elimination efforts, as is the impact on health inequalities among PWID.
Green Book Chapter 14a (updated)
The new Chapter 14a of PHE's 'Green Book', Immunisation against infectious disease, dedicated to COVID-19 disease, first published in November 2020, was revised in late January 2021 with additional information to reflect the MHRA approval of the Astra-Zeneca vaccine, updated advice on pregnancy and allergies for the Pfizer-BioNTech vaccine, and an updated recommendation on scheduling of vaccinations, based on Joint Committee on Vaccination and Immunisation advice.
A consistent interval between first and second doses (3 to 4 weeks apart) had originally been recommended for the 2-dose vaccines (to simplify messaging). The updated recommendation (as of 26 January) is for the second dose of both vaccines to be scheduled up to 12 weeks after the first dose, in order to maximise first dose vaccine coverage.
Advice on timing of vaccine in those being given immunosuppressive treatments was updated on 21 January. Precautionary advice relating to vaccination of those with a history of anaphylaxis was expanded on 26 January, as were instructions for reporting of such events.
A comprehensive collection of resources for health professionals and immunisation practitioners involved in the COVID-19 immunisation programme in the UK is routinely updated in the Vaccine update collection page, including leaflets, posters, consent forms, letter templates, patient group directions and vaccine supply documentation.
Infection reports in this issue
Laboratory confirmed cases of pertussis in England: July to September 2020.
Laboratory confirmed cases of invasive meningococcal infection in England: July to September 2020.
Vaccine coverage reports
Shingles vaccine coverage report (adults eligible April to September 2020 and vaccinated to end of December 2020): England Quarter 2 2020 to 2021.
Impact of COVID-19 on childhood vaccination counts to week 4, 2021, and vaccine coverage to December 2020 (England): interim analyses.
— to www.gov.uk