A higher proportion of people living in Scotland have received a Covid-19 vaccination than in England and Northern Ireland, according to the latest official figures.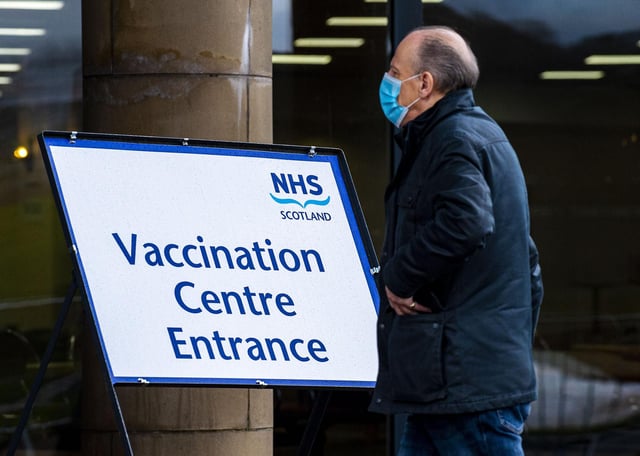 The latest official figures show 25.5 per cent of people in Scotland have received a first dose of vaccine against Covid-19, a slightly higher proportion of the population than the UK average of 25.3 per cent
Office of National Statistics data shows more than a quarter of Scots – 25.4 per cent of the total Scottish population – have received an initial dose of vaccine.
This is slightly higher than the national average.
Only Wales had a higher vaccination rate, with 26.6 per cent of its population having received a jab.
The figures for England and Northern Ireland are 25.3 per cent and 23.0 per cent respectively.
As of 19 February, a total of 16,875,536 people across the UK had been given a first dose of Covid-19 vaccine.
This amounts to 25.3 per cent of the UK's total population, and 32 per cent of people aged 18 and over.
In Scotland, 1,386,152 people had been vaccinated by Friday morning, almost a third of those aged 18 and older.
This also includes 99.9 per cent of care home residents and 80 per cent of care home staff.
Vaccination levels among Scots aged 80 and over and 75 to 79 have exceeded the estimated population for these age groups, the figures show.
About 94 per cent of people in the 70 to 74 bracket, as well as 74 per cent of those aged 65 to 69, have also had a first injection.
Figures also show the percentage of people testing positive for Covid-19 has decreased in all four UK nations, suggesting the immunisation programme is having an effect.
In Scotland, estimates suggest that 29,200 people – about one in 180 people – had Covid-19 in the week ending 12 February, down from 35,400 the previous week.
This compares to 481,300 people (one in 115) in England; 24,600 (one in 125) in Wales; and 17,800 (one in 10) in Northern Ireland who tested positive for the virus over the same period.
Results suggest levels of infection with new variants of coronavirus have also dropped or levelled off across all four nations in the UK.
The latest Scottish figures show the number of Covid deaths in care homes has fallen dramatically over the past three weeks.
Care homes now account for a smaller proportion of deaths from the virus than at any time since March of last year.
A message from the Editor:
Thank you for reading this article. We're more reliant on your support than ever as the shift in consumer habits brought about by coronavirus impacts our advertisers.
— to www.scotsman.com