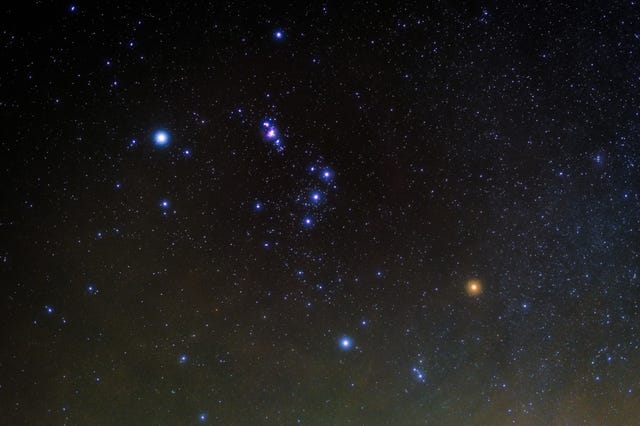 Chasing Light – Photography by James Stone james-stone.comGetty Images
A little bit of good news goes a long way in cutting through less encouraging headlines and lifting our spirits. Here, we collate six good things that have happened this week (from Monday 1st Feb), to make you smile, laugh and feel more hopeful…
Cranes are coming back from extinction in the UK
Cranes disappeared from the British Isles in the 1600s due to hunting and destruction of their wetland habitats but, thanks to a successful reintroduction programme, it's good news for the UK's tallest bird. There are now 64 breeding pairs of cranes across the UK, following the restoration of a number of wet and peatland habitats. Last year, 23 chicks were born.
MORE ON THE GREAT CRANE PROJECT
A nationwide Star Count is taking place next week
CPRE, the countryside charity, are calling for stargazers from all over the UK to take part in their 2021 nationwide Star Count, which will take place from 6th to 14th February. On a clear night next week, head outside and look south in the sky to find the Orion constellation. All you have to do is count how many stars you can see in the constellation and log your findings. The data will help the charity learn about light pollution and lobby for change to improve it.
A four-year old found a 215 million-year-old dinosaur footprint on a beach

This content is imported from Twitter. You may be able to find the same content in another format, or you may be able to find more information, at their web site.
Lilly Wilder and her dad were walking along a beach in Llandough, Wales, when she stumbled across a perfectly preserved footprint of a 215 million-year-old dinosaur. Experts have said it is the finest of its type to have been found in 10 years. The 3.9-inch long print is believed to belong to a new, two-footed species of dinosaur. It has since been inspected by palaeontologists and taken to the National Museum in Cardiff. What an exciting walk for Lilly!
Scottish musician is giving away 'happy' sounds album
This content is imported from Instagram. You may be able to find the same content in another format, or you may be able to find more information, at their web site.
Tommy Perman started a lockdown project in September 2020 which saw him ask 50 friends from all over the world to send him a sound that made them happy. Tommy used the recordings – which included birdsong, pet noises, natural elements and sounds from people's homes, hobbies and jobs – to make a 20-track album. The artist and musician is now giving the Positive Interaction album away for free, in return for happy messages which he plans to use for future projects.
The highest resolution photo of a snowflake has been taken
Former Chief Technology Officer at Microsoft, US-based Nathan Myhrvold has taken the highest resolution photographs of snowflakes to date – and the images are beautiful. As we know, snowflakes are very small and melt quickly if not kept in the correct conditions so photographing them was no mean feat. Nathan built a bespoke, five-foot tall machine to achieve his goal.
Renters can now keep pets
It's about to get a lot easier for renters with "well-behaved" pets to find a home in England. With just 7% of private landlords currently advertising pet-friendly properties, many owners have struggled to find suitable homes, with some having to sadly give up their pets all together. The new agreement will mean landlords can no longer issue a blanket ban on pets, but instead consent for pets will be the default position.
Looking for some positivity? get Country Living magazine posted through your letterbox every month. SUBSCRIBE NOW
Like this article? Sign up to our newsletter to get more articles like this delivered straight to your inbox.
This content is created and maintained by a third party, and imported onto this page to help users provide their email addresses. You may be able to find more information about this and similar content at piano.io