Dakota Johnson recently made headlines again for her famously awkward 2019 appearance on The Ellen DeGeneres Show. As Nov. 27 marked the first anniversary of the interview, some social media users went online and started rehashing the moment. Many called it a "cultural reset" and the beginning of DeGeneres's downfall as America's "kindest celebrity."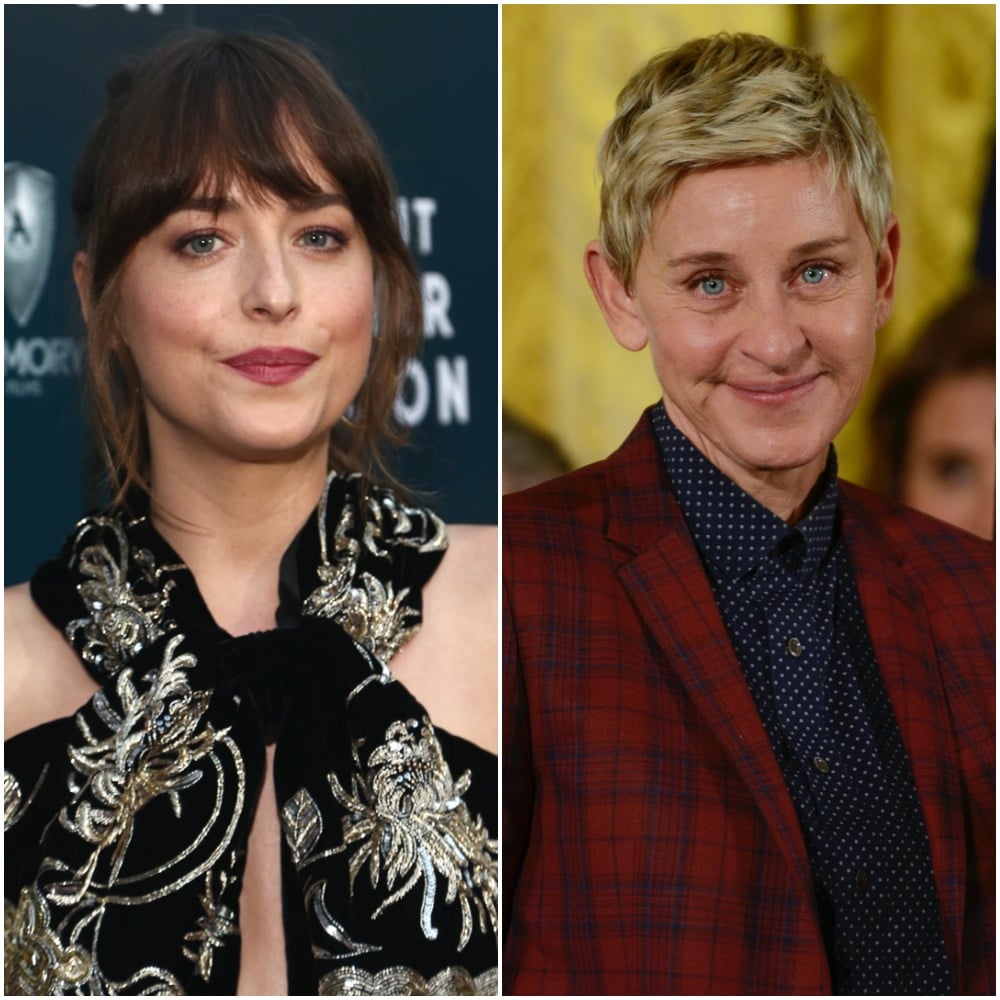 A look back at Dakota Johnson's interview with Ellen DeGeneres
Johnson went on the show to discuss a wide range of topics, from her career to several life moments. Like many other interviews on the show, things seemed cool and casual at first. But the conversation grew awkward when DeGeneres asked why she hadn't received an invitation to Johnson's 30th birthday party in October 2019.
"Actually, that's not the truth," she replied. "Ellen, you were invited. Last time I was on the show last year, you gave me a bunch of sh*t about not inviting you, but I didn't even know you wanted to be invited."
She admitted she "didn't even know [Ellen] liked [her]," seemingly implying that DeGeneres was mean toward her at a point. After some back-and-forth on the issue, DeGeneres finally offered up an excuse for her absence, nonchalantly telling Johnson, "I had that thing."
RELATED: Blake Shelton Called Out Ellen DeGeneres on Her Show for Giving Him a Gift and Apparently Taking It Back
Ellen DeGeneres later faced an onslaught of 'mean' allegations
Mere months after that interview, DeGeneres started facing allegations that she isn't as nice as she appears on TV.
The accusations started in March 2020 when comedian Kevin T. Porter asked social media users to share the worst stories they'd heard about DeGeneres and continued through the summer as BuzzFeed News published two bombshell stories in which former and current staffers aired their personal grievances about the host and her show.
RELATED: Kevin T. Porter Was Furious With Ellen DeGeneres Months Before He Launched the Twitter Campaign That Destroyed Her
Amid the backlash, DeGeneres owned up to the show's faults in a memo sent to her staff which was obtained by The Hollywood Reporter.
On day one of our show, I told everyone in our first meeting that The Ellen DeGeneres Show would be a place of happiness — no one would ever raise their voice, and everyone would be treated with respect. Obviously, something changed, and I am disappointed to learn that this has not been the case. And for that, I am sorry. Anyone who knows me knows it's the opposite of what I believe and what I hoped for our show.

Ellen DeGeneres's memo to her staff, per The Hollywood Reporter
Still, her history has continuously been brought up
Even though DeGeneres has made strides to move past the controversy, some fans haven't let it go. Social media users specifically brought up her interview with Johnson during the week of Nov. 22 amid the first anniversary of the interview.
"i think about that dakota johnson ellen interview often. a cultural reset indeed," read one tweet.
"Looking back at it that interview really did reveal the condescension that people close to Ellen had been describing for years," said a second tweet.
"I think this was the beginning of end for Ellen. I really do, and it makes me a little sad" commented another.
Echoing that, another social media user credited Johnson for jump-starting the DeGeneres controversy, noting, "It's been a year since Dakota Johnson demolished Ellen DeGeneres on her show and began to topple her empire."
So far, neither Johnson nor DeGeneres has publicly commented on the resurfaced interview. But when DeGeneres's show returned to the air in the fall, she once again apologized and promised the program would be different moving forward.
— to www.cheatsheet.com