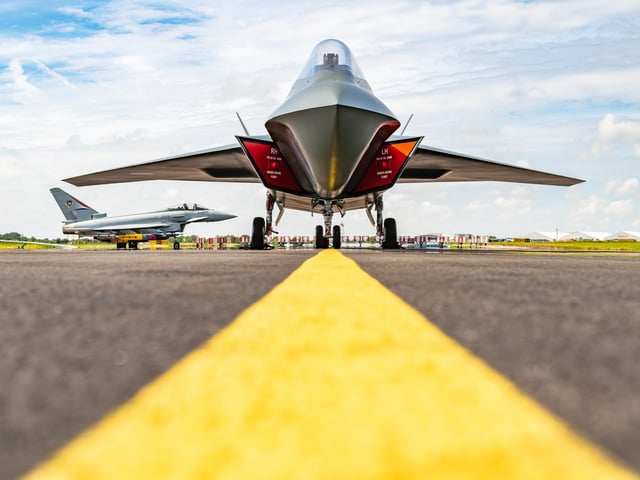 Tempest will replace the Eurofighter Typhoon, securing jobs at BAE Systems in Lancashire
BAE Systems has weathered the storm that has almost destroyed other areas of the aerospace sector.
And it is planning to take on hundreds of extra staff "at all levels" for its Tempest programme in the near future.
BAE Systems' importance to Lancashire's economy is set to become even clearer in 2021 as the effects of the coronavirus pandemic ripple through the jobs market.
Prime Minister Boris Johnson's announcement of a £16.5bn increase in defence spending has major implications for BAE Systems and its thousands of workers in Lancashire at Warton and Samlesbury.
Future plans include an additional £1.5bn for military research – including the Future Combat Air System.
The defence giant is at the heart of the Future Combat Air System, where Team Tempest are working on the successor fighter jet to the Eurofighter Typhoon
In November BAE was also awarded a £1.3bn order to support the production of 38 Eurofighter Typhoon aircraft for the German Air Force.
Work will commence in 2021 at BAE Systems' sites in Lancashire, maintaining continuity of Typhoon production through to the mid-2020s and sustaining high-value engineering roles in the North of England.
And the company plans to take on hundreds of new workers in 2021.
BAE Systems has also announced a record intake of apprentices in 2021 – with 341 roles on offer in Lancashire.
All that is in stark contrast to the civil aerospace industry that has been rocked – from manufacturers like Rolls Royce to airports – by a loss of orders and lack of business.
Meanwhile many other sectors, including hospitality and tourism, are expected to take a long time to recover from the effects of the coronavirus pandemic.
Babs Murphy , chief executive of the North & Western Lancashire Chamber of Commerce said the importance of BAE Systems to the Lancashire economy could not be under-estimated.
"BAE Systems and the military aerospace sector has often been a source of stability for Lancashire's economy over the years due to the fact it works on long-term programmes backed by Government.
"We have seen that again during the COVID-19 pandemic when the civil aerospace sector has been hit by a drop off in passenger numbers, but the military sector has remained comparatively unaffected.
"BAE Systems alone employs around 12,000 people across the county and it estimates more than 30,000 further jobs are supported in the wider economy, either directly in its supply chain or through the spending of its employees.
"These are high-value, highly-skilled jobs working on programmes that will be running for decades, and on top of that the company and its workforce contributes billions to the public purse through taxation.
"This is the direct impact to the economy, but you cannot underestimate the value of the innovation a company like BAE Systems inspires across its suppliers and how that filters across the economy, and its commitment to investing in young people through its apprenticeship and graduate programmes.
"Despite the impact of the pandemic, it has pressed on with taking on more than 200 apprentices and graduates at its sites in Lancashire this year and committed itself to further recruitment in years to come."
"Programmes such as the Future Combat Air System, which the Government referred to in its commitment, will be the lifeblood of this industry for decades to come, so investment in defence is a good thing for our economy."
More than 5,000 BAE Systems employees directly support the Typhoon programme in the UK, supporting a further 10,000 jobs in the UK economy as a whole.
The Eurofighter Typhoon is the most advanced multi-role combat aircraft in operation, supporting European security and defence objectives.
Its successor will be the Tempest.
Charles Woodburn, Chief Executive, BAE Systems, said the Tempest workforce would be boosted in 2021 and beyond.
He said: "BAE Systems, Rolls-Royce, Leonardo and MBDA are working together with the Royal Air Force to design and develop a future combat air system that will be both cutting-edge and cost-effective.
"This critical partnership will ensure that the UK maintains its position at the forefront of the combat air sector and that our Air Force is capable of tackling and defeating the rapid technological advancements being made by our adversaries.
"Together, and working closely with our Trades Unions, we've continued work on Tempest throughout the pandemic with the support of more than 1,800 people, including hundreds of apprentices.
"We will increase the size of this team to more than 2,500 by next year, providing job opportunities at all levels at this critical time in the country's
The defence giant stresses that apprenticeship programmes aren't just for school or college leavers; almost 10 per cent of BAE Systems' apprentices are over 25.
And for those facing uncertainty in the current climate, they provide a wide range of opportunities to retrain.
Opportunities are available in a variety of roles including accountancy, human resources, electronic systems design, software development, joinery and mechanical fitting.
Unite assistant general secretary Steve Turner said: "It is absolutely essential that despite the pandemic, companies continue to invest in the future.
"For those wanting to start their working life in this industry, this is particularly great news, especially with opportunities for young workers few and far between thanks to the pandemic.
"Without a steady stream of apprentices there is a real danger of skills being lost. Apprentices are the future of the UK's manufacturing industry.
"Continuing apprentice recruitment is essential to tackle the long-term skills crisis which is holding back UK manufacturing."
Secretary of State for Education Gavin Williamson said: "It's fantastic to see BAE Systems continuing to innovate and invest in apprenticeships giving more people of all ages and backgrounds the chance to progress.
"I encourage businesses of all sizes to follow their lead, recruiting more apprentices to help take their business to the next level."
— to www.lep.co.uk