By Chris Andrews
BBC News NI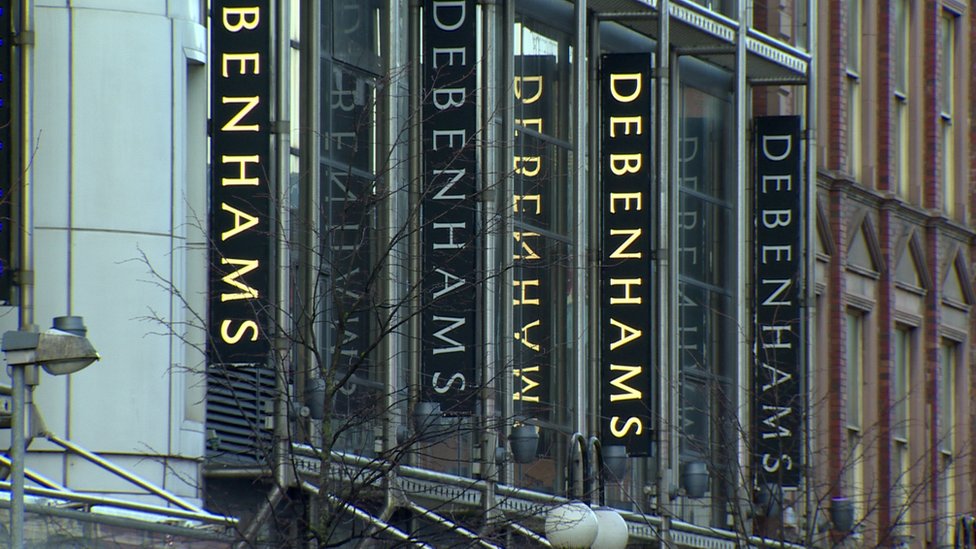 The news that Debenhams stores are set to close has been described as a "hammer blow" to town centres across Northern Ireland.
Among its 12,000 employees, hundreds work across five Debenhams shops in Northern Ireland – Belfast, Londonderry, Ballymena, Craigavon and Newry.
As an anchor tenant, the business was viewed by shopping centres and town centres as a major draw, helping to bring in footfall which would benefit other stores nearby.
BBC News NI takes a look at what the loss means to the areas where Northern Ireland's five Debenhams branches are located.
'A hammer blow' – CastleCourt, Belfast
CastleCourt, with more than 80 stores, is one of Belfast's biggest shopping centres.
When it opened in 1990 on Royal Avenue, Debenhams became the centre's anchor tenant.
Spanning across two floors, it is the largest unit in CastleCourt and one of the biggest retail spaces in Belfast city centre.
With Debenhams' front entrance and branding on what has been traditionally the city's main shopping thoroughfare, the loss of such a retailer combined with the administration of Arcadia is a "hammer blow", according to Belfast Chamber chief executive Simon Hamilton.
He said it was "one of the biggest ever" challenges faced by the city and called for the NI Executive to "step up and support Belfast".
Royal Avenue is a section of the city which has also endured a tough trading environment after a lower footfall caused by the Bank Buildings fire in 2018.
'In shock' – Foyleside Shopping Centre, Londonderry
Debenhams opened at the Foyleside Shopping Centre in Londonderry in 2003 when an extension was built onto the main complex.
Foyleside itself, now with more than 50 shops, officially opened in 1995, with existing anchor tenants Marks & Spencer and Dunnes Stores continuing to trade there.
Paul Clancy, chief executive of the Londonderry Chamber of Commerce, said Foyleside was "in shock" after the Debenhams closure.
There were more than 100 people "struggling over what future they will have" close to Christmas, he said.
The centre told BBC News NI it was confident a new tenant would be found to fill the space left behind by Debenhams.
It said it expected to make an announcement "in the near future", adding that, despite a challenging year, many other retailers continued to perform well.
'Devastated' – Fairhill Shopping Centre, Ballymena
Debenhams opened its first Desire fashion store in Ireland at Ballymena's Fairhill Shopping Centre in 2007.
Ballymena has grown as a popular shopping town, with Fairhill, opened in 1991, also home to major high street brands such as Marks & Spencer, Next and New Look.
One shopper said she visited Debenhams each time she was in Ballymena.
"It is a big loss for every town," she told BBC News NI's Evening Extra programme.
But two shoppers, both aged 19, described Debenhams' shopping offering as "too old", saying they were inclined to buy make-up brands online rather than in the shop.
Cllr Eugene Reid, President of the Ballymena Chamber of Commerce, said his thoughts were with the Debenhams employees affected.
"Stakeholders must now come together to ensure they are treated properly and town centres get the support they need to help them evolve," he added.
Eugene Diamond, who owns a convenience shop in the town, said Debenhams staff would be "devastated by the news while on lockdown".
Largest shop in one of NI's largest centres – Rushmere Shopping Centre, Craigavon
Rushmere Shopping Centre, outside Craigavon, is one of Northern Ireland's largest retail complexes.
The centre itself, first opened in 1976, has 350,000 sq ft of mall space, more than a quarter of which is taken up by Debenhams.
At 82,000 sq ft it is by far the County Armagh mall's largest shop, although other major brands such as Sainsbury's, TK Maxx and Next also provide a draw for shoppers.
Border appeal – The Quays Shopping Centre, Newry
Debenhams established its shop at the Quays Shopping Centre in Newry in 2004, five years after the centre opened.
It replaced one of the Quays' original tenants, Roches Stores, whose outlets across Ireland Debenhams would later take over.
As in Londonderry, Newry's proximity to the Irish border means it benefits from trade and shoppers coming from the Republic of Ireland.
Debenhams Ireland did not reopen its shops in the Republic after the first Covid-19 lockdown, adding to Newry's potential appeal as one of the closest outlets for Irish shoppers.
— to www.bbc.co.uk