The incidents included robbery, gangs of teenagers behaving in an antisocial manner, theft and a man with a machete – as well as reports of a man being threatened with a knife.
They occurred from 6.30pm until 9.30pm on Sunday and police are now appealing for any CCTV, dash-cam or doorbell footage which could help with investigations.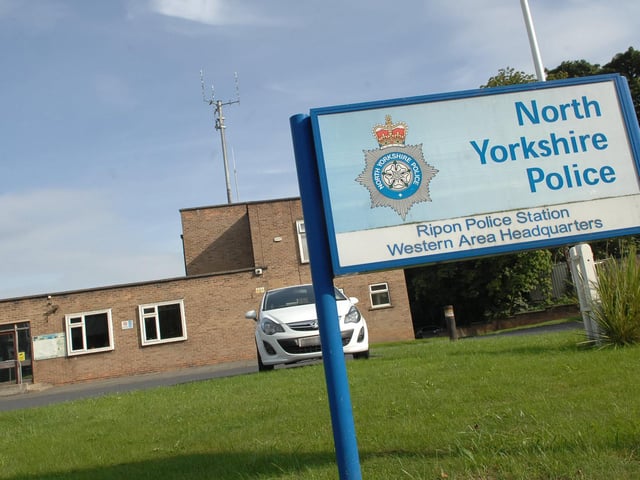 A number of crimes took place in Ripon on Sunday, January 31.
The first incident, a robbery, took place at approximately 6.30pm on King Street, when a 23 year-old man was attacked by two or three suspects who are described as young males.
The victim's mobile phone and watch were stolen and he sustained injuries to his face.
Following this, police say four teenage boys and one teenage girl entered McColl's on Bondgate at around 8.30pm and left with items of alcohol without making an attempt to pay for them.
A report of antisocial behaviour involving a group of approximately 15 teenagers gathering on Southgate was then received at 9.10pm. They were wearing dark clothing and shouted abuse at local residents after being asked to move away from parked cars.
At around 9.30pm, police received a report of a male with what is believed to be a machete on Bondgate.
Around the same time, they received a separate report that a man was threatened by another male with a knife on Bondgate.
Police say there were also a number of other reports of large groups of 'youths' at various locations throughout the evening.
Neighbourhood Policing Inspector Alex Langley said: "I'd also like to reassure the local community that we are investigating all of these reports which we are taking very seriously and I can assure people that we will be taking robust action against those responsible.
"Did you see what happened or do you have any CCTV, dash-cam or doorbell camera footage that may have captured something? We'd also like to hear from anyone who has any information that could help us to identify those involved.
"Our extensive enquiries are ongoing, including officers trawling through CCTV footage and speaking to local businesses and we have also stepped up our patrols."
It comes just weeks after Ripon City Council called for an "urgent" meeting with the county's police boss, North Yorkshire Police, Fire and Crime Commissioner Julia Mulligan, over increasing reports of antisocial behaviour including members of the public being spat at and pets being kicked.
Council leader Andrew Williams said he believes local police officers are doing all they can to keep the community safe but there isn't enough of them to allow them to do their jobs properly.
He said: "The city council is extremely grateful to local officers who are trying their very best to resolve the situation. We do fully understand that staff resources are stretched and the force is under pressure during Covid, and that is why we have gone to the top.
"We welcome the fact that a very swift response has come from Julia Mulligan and this hasn't been brushed under the rug.
"We are hoping that more staffing resources can be put into this issue to stamp it out. It's my concern that if these individuals aren't kept in check, then it could spiral out of control with more serious crimes."
A date for the meeting is yet to be confirmed but should be taking place in the coming weeks.
Ayone with information which could assist the investigation should contact North Yorkshire Police on 101 or email lucymills@northyorkshire.pnn.police.uk. To remain anonymous, pass information to Crimestoppers on 0800 555 111.
Quote the following North Yorkshire Police reference numbers when providing information:
12210049512 – robbery on King Street at 6.30pm
12210049541 – theft at McColls
12210049572 – report of male with a machete
12210049669 – man threatened by a male with a knife
12210049571 – antisocial behaviour incident involving 15 teenagers on Southgate