Robert O'Connor, Head of Research at the Irish Cancer Society was speaking in a panel discussion with Professor Mark Lawlor, Associate Pro Vice Chancellor and Professor of Digital Health, School of Medicine, Dentistry and Digital Sciences at Queen's University, during a World Cancer Day Conference held online by the Derry-based Pink Ladies Cancer Support Group.
The discussion focused on the impact Covid 19 has had on cancer services on both sides of the border.
Prof, Lawlor, who has an international reputation in cancer research, told how, at the start of the pandemic, seven out of ten people with suspicions of cancer were not being referred to specialist cancer services, either because they did not go to their GP or because they couldn't access treatment. Four out of ten people were not receiving chemotherapy at that time.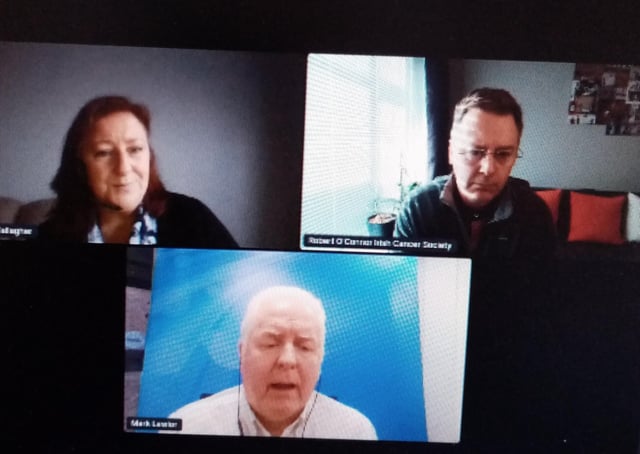 Professor Lawlor and Mr O'Connor in the online discussion, moderated by Margaret Gallagher, Pink Ladies Cancer Support Group.
Prof Lawlor and his team were 'so worried' they shared their data with Chief Medical Officers and hospitals and he feels 'it was part of the reason why there was a shoulder push to establish cancer services.'
Prof Lawlor said that now, 'the problem is we're having to address the current cases and what is now a backlog.' They have been using data to address this, as well as making treatments more effective. An example is a test for blood in faeces, which is 'being used more effectively in Northern Ireland since Covid 29.'
"It is one of the few things Covid helped accelerate.'
Prof Lawlor said that while Covid 19 does have to be dealt with, it should not be at the expense of cancer services and diagnoses.
He urged anyone who may be concerned or who are showing any symptoms to contact their GP and for anyone receiving treatment to attend their specialist.
Mr O'Connor reiterated this and said, as well as the pandemic's impact on the health service, the 'psychology of what's going on in the background' was also a factor.
"There are a lot of people in sheer fear.
"They're afraid to engage with the health service, despite PPE and all that will impact on a number of different aspects of cancer for at least a decade."
He added that the cessation of screening, which 'prevents cancer from happening in the first place' will also have an effect.
Mr O'Connor is 'worried about people not going to their GP' as GPs are incredible at picking up signals both in people who have not had and who previously had cancer. "Most cancers take several years to present and I'm worried that, as people can't access someone, the numbers are going up in the background."
He urged anyone with concerns to speak to their GP. 'Do not leave it until next month.'
Mr O'Connor said that, in order to address the concerns of Covid 19's impact on cancer, there is going to have to be a lot more investment in research.
Both men highlighted how Northern Ireland and the Republic of Ireland are now considered as some of the best in the world in cancer research.
— to www.derryjournal.com