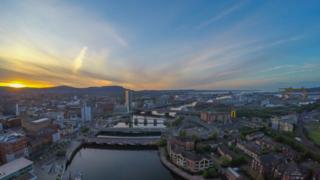 Northern Ireland's economic output fell by 14% in the second quarter of this year to "an all time low" because of the impact of the coronavirus lockdown.
The Northern Ireland Statistics and Research Agency (Nisra) said the fall is the biggest in the history of the series.
Annual growth – compared with the same quarter in 2019 – fell 18%.
The statistics are measured using the Northern Ireland Composite Economic Index (NICEI).
It is considered the Northern Ireland equivalent of GDP.
'Big decline'
Ulster Bank Chief Economist Richard Ramsay pointed out that in the five years that followed the 2008 recession, the NICEI fell by around 10%.
"Now we're seeing an even bigger decline than that in the space of four months," he told BBC News NI.
"These figures are confirming what we already knew, but while this Nisra series only records economic output over the past 15 years, effectively output has fallen back to where it was in the late 1990s."
He said private sector activity is now "broadly where it was" in 1998.
However, Nisra said Northern Ireland economic activity fell more slowly than in the rest of the UK over the second quarter and the year.
UK GDP fell about 19% over the same quarter and 21% over the year.
The construction sector reported its biggest ever fall in output, falling 30% in the second quarter.
Annual growth was also 30% lower when compared to the second quarter of 2019.
EY's chief economist in Ireland, Neil Gibson, said the "record contraction in quarterly output in Northern Ireland is unsurprising given that Q2 was the most challenging quarter that the economy has faced during peace times".
'Labour market stronger than predicted'
However, he added that figure is "not entirely comparable to UK growth estimates due to methodological differences, most notably how public service real output is measured".
"When a broader basket of economic measures is considered, the contraction in Northern Ireland appears to have been broadly similar in scale to the impact across the rest of the UK," he explained.
Mr Gibson added: "Perhaps of more concern is that Q2 was the third consecutive quarter of output contraction in the region, suggesting the recession set in before Covid-19 hit."
But he said that not all economic indicators are "as negative as feared" pointing out that Northern Ireland's labour market "has been rather stronger than many predicted".
He said the number of people on furlough has fallen to well under 100,000, down from a peak of 250,000.
He added that the number of people on Universal Credit "has not risen significantly since the initial step-up of close to 30,000 in April".
— to www.bbc.co.uk