An apparent fall in the number of Britons being vaccinated against COVID-19 each day is down to "supply fluctuations", England's deputy chief medical officer has told Sky News.
Professor Jonathan Van-Tam said it "will take a few months" before vaccine manufacturers are able to produce doses in a "steady routine", adding that "global supply restraints" have also hampered the UK's vaccine rollout.
He said: "There are always going to be supply fluctuations. These are new vaccines, by and large the manufacturers have not made them or anything like them before."
Supply would continue to be unpredictable as the manufacturing process is "a bit like beer-making", he said – the end product is not always the same and the yield might be different each time – so "you do get batch-size variations".
Live COVID news from UK and around the world
Answering questions from Sky News viewers, Prof Van-Tam also addressed:
• Side effects – All occur in days, and if not weeks, and are "incredibly rare"
• Infertility – Link "not biologically logical" and no vaccine has ever affected fertility
• Uptake – There's no "magic number" of uptake required, and the aim isn't herd immunity
• Visiting older relatives – It is safer, but don't assume that you have a sort of "Colgate ring" around you once you've been vaccinated
• Lifting restrictions – Must progress at a steady pace so we don't "blow it"
• Winter booster shot? – New variants could "outwit" current vaccines and force revaccination
Nearly 18 million Britons have had at least one dose of a coronavirus vaccine.
However, the UK's daily totals have dipped since the total topped 15 million earlier this month.
On Monday 22 February a total of 192,341 doses were administered across the UK – a drop from the 275,956 on the previous Monday (15 February).
Meanwhile, 141,719 doses were administered on Sunday 21 February – a fall from the 237,962 given a week before (on Sunday 14 February).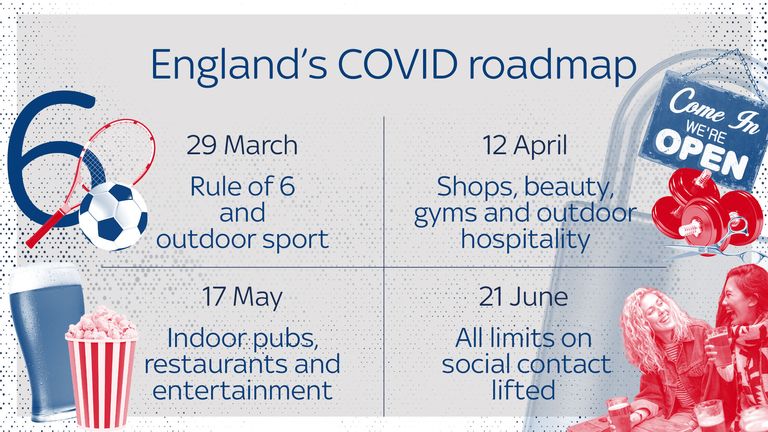 Prof Van-Tam was also asked about the timetable set out in the government's roadmap for easing lockdown – which he said he believed would "get us from where we are now… to where we want to be in the summer".
The route out of lockdown is dependent on coronavirus cases, deaths and hospital admissions continuing to fall.
These will be constantly reviewed with five weeks between each of the four stages and a week's notice will be given before full confirmation of each step.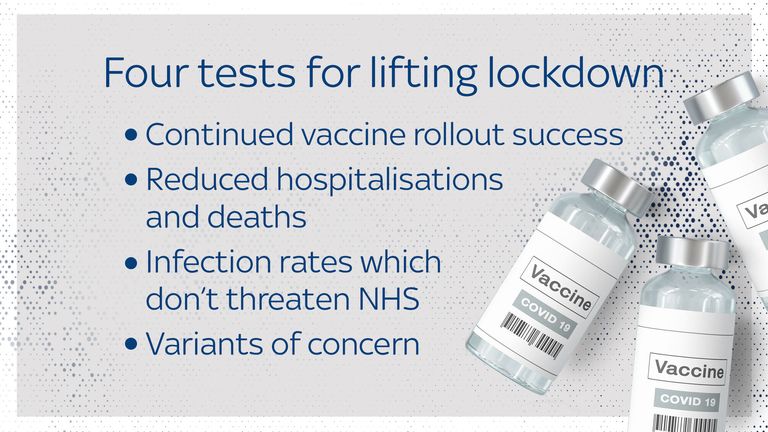 He said he understood people's frustrations with the pace of the roadmap – but said reacting "too quickly" risks "getting it wrong", and said while the path forward is "pretty careful and pretty painstakingly cautious" he believes it is "appropriate".
"I completely get it, I am desperate for the football to be back, but actually I would rather do this once and get it right and not have to make any U-turns or backtracking, I would rather just go slowly and steadily and get there in one go," he said.
On Tuesday, another 548 deaths and 8,489 confirmed COVID cases were reported. The daily updates will be even more keenly watched by the government and the population at large over the coming weeks and months.
Mr Johnson said he was optimistic that all coronavirus restrictions in England may well be lifted by 21 June, however it is "data not dates" that will ultimately guide his decisions. Pupils will return to the classroom on 8 March, having faced almost a year of disruption caused by COVID-19.
Scotland's route out of lockdown will come in stages, with the country's stay-at-home order set to end on 5 April, followed weeks later by a return to a system of levels, First Minister Nicola Sturgeon has said.
Subscribe to the Daily podcast on Apple Podcasts, Google Podcasts, Spotify, Spreaker
Northern Ireland has also recently extended lockdown restrictions, although some measures will be eased from 8 March, with First Minister Arlene Foster promising a full review on 18 March.
And Welsh First Minister Mark Drakeford last week extended lockdown in Wales for at least another three weeks and has said he will use the time to look at options for reopening shops and hairdressers.
— to news.sky.com