A ground-breaking new project is set to explore whether an unusual blobby underwater creature could help clean up the seabed around fish farms.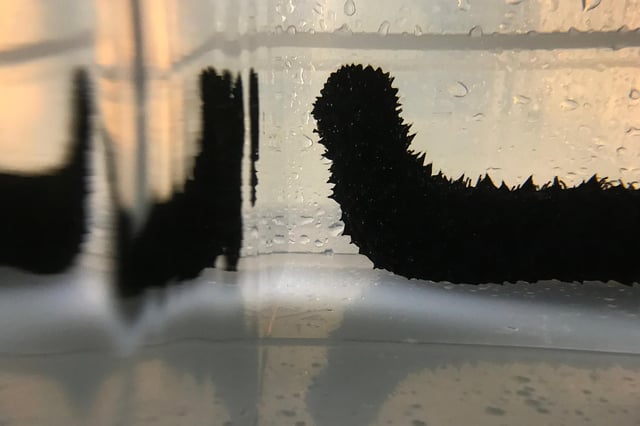 Sea cucumbers are considered a delicacy in China but could be used to clean up uneaten food and fish waste at salmon farms
Wrasse are already used as cleaner fish to remove parasitic sea lice from caged salmon in a bid to reduce the need for pesticides and medicines.
Now it's hoped sea cucumbers, which are from the same family as sea urchins and naturally found in Scottish waters, could be harnessed to get rid of deposits of uneaten food and fish sewage, cutting pollution of the marine environment.
Scottish scientists have launched a new study to investigate the concept, which could be transformational for the fish farming industry.
The approach has been proven in Asia and Chile, but applications in the EU and UK are limited.
As part of the project, researchers will build a computer model that integrates with existing software that is already widely used by the sector to predict the impact of fish farm secretions.
The project aims to identify the optimum conditions for sea cucumbers and the quantities salmon producers could introduce to minimise the impact of waste.
The study is being carried out by Blue Remediation, set up by a team of PhD students from the University of Strathclyde and Heriot-Watt University, with backing from the UK Seafood Innovation Fund and support from the Sustainable Aquaculture Innovation Centre (SAIC).
Soizic Garnier, co-founder of Blue Remediation, said: "Managing and minimising the environmental impact of aquaculture is crucial for supporting the sector's growth.
"Alongside the extensive regulatory frameworks that are in place, we have identified a possible natural solution that could absorb some of the waste that is inevitably produced by fish and the process of feeding them.
"Using sea cucumbers in Scottish waters has great potential, but there are still a number of questions that we need to find the answers to.
"This study and subsequent live trials will help to determine the impact of integrating different species, any impact on wild cucumbers, as well as monitoring the health and well-being of the sea cucumbers, including disease control."
The experimental part of the project will be carried out in collaboration with the Oban-based Scottish Association for Marine Science (SAMS), led by Dr Georgina Robinson with support from the science team.
Initial testing is expected to last for three months, using 18 Scottish sea cucumbers with a variety of diets to represent how the creatures would behave in a real-world fish farm environment.
Sediment has been provided by fish farming giant Mowi, collected from its Loch Leven site, and salmon faeces provided by the University of Stirling's Institute of Aquaculture to mimic the natural ecosystem.
Sea cucumbers are considered a delicacy in Asia and can fetch more than £2,000 per kilo, so there may also be potential for cultivation if the studies prove they are effective as cleaners.
Heather Jones, SAIC chief executive, said: "There is a real opportunity to build sustainable aquaculture systems in Scotland that will support the world's increasing demand for protein.
"With research projects exploring cost-effective, data-led methods, such as using sea cucumbers, we could transform the sector's approach to waste management.
"Integrated multi-trophic aquaculture is still in its infancy in Scotland, but could be a valuable, sustainable, circular method of ensuring resources don't go to waste."
A message from the Editor:
Thank you for reading this article. We're more reliant on your support than ever as the shift in consumer habits brought about by coronavirus impacts our advertisers.
— to www.scotsman.com