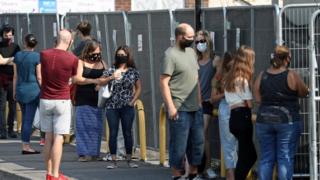 Prime Minister Boris Johnson has defended the coronavirus testing system, saying it is trying to meet a "colossal spike" in demand.
It comes as the government said it was drawing up a list setting out who will be prioritised for tests.
Care home residents and staff are likely to be near the top of the list, as Mr Johnson acknowledged ministers were concerned about infection rates.
The PM told MPs a new "action plan" for care homes will be released this week.
Earlier, Justice Secretary Robert Buckland said schools could be considered for priority testing.
Mr Johnson said 89% of those who have in-person tests get them the next day.
He told Prime Minister's Questions on Wednesday: "I think most people looking at the record of this…
— to www.bbc.co.uk