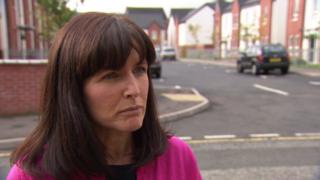 The Alliance Party's health spokesperson has said she will not go on a family holiday to Italy.
South Belfast MLA Paula Bradshaw had told BBC's Nolan Show that she would not be "breaking any laws" by travelling abroad.
She has since tweeted that she "should have been clearer" and will not travel while guidelines remain in place.
First Minister Arlene Foster said that whether people go on holiday abroad is a "matter for their own judgement".
NI Direct says that "you should not travel abroad unless it's essential".
Ms Bradshaw said: "Like many people, I have a holiday booked – in my case to Italy. I should be clear when I said I would operate within the guidance, that obviously includes not travelling if the regulations and guidance at the time state I should not do so. That is currently the case.
"It is important everyone, particularly in representative roles, adheres both to the spirit and letter of that guidance."
Speaking earlier on Monday, she said: "A lot of people will be going on holidays, a lot of people will be doing the same as we are doing, so that's where we're at."
She criticised the legislation on lockdown restrictions, saying that it "is still full of holes which is creating confusion".
And added that they had "weighed it up as a family" and it is "very much a private matter".
'We have worked extremely hard'
The family were planning to stay at an all-inclusive hotel and Ms Bradshaw said they had read guidance from the airports and airline. Upon their return, she said that her daughter, who works in a care home, would quarantine for two weeks.
"Throughout the whole lockdown we have followed all of the social distancing, all the hygiene control measures," she told The Nolan Show.
"We have worked extremely hard for the last few months and we have, as a family, decided to go on holiday.
"I think that everyone is entitled to a private life and we will go and we will be respectful of the restrictions in place in Italy and when we come home, we will be respectful of the restrictions here."
DUP leader Arlene Foster said it was not for the executive to tell people if they should go on holiday this summer or not.
"In terms of the regulations we now have a list of countries where you can go, and some places where you have to quarantine when you return", she said.
"We're fully aware people have plans – the list is there open for people to see but we do have to revisit it every three weeks so it's a rolling story."
Many people have cancelled their getaways this summer, assuming that the Covid-19 pandemic means travel abroad remains too risky.
But Paula Bradshaw's planned holiday has highlighted that perhaps it is not so clear cut.
The executive changed the travel regulations earlier this month, so that people arriving in Northern Ireland – as well as those returning from certain countries – no longer need to quarantine.
Yet Stormont advice remains you still should not travel unless it is "essential", putting the onus on passengers to decide for themselves whether to abide by the guidance.
Instead of directly telling people what they cannot do, the matter has been left open to interpretation, complicated further by the fact that the Irish government has not published its green list of exempt countries yet.
That list is due out later this week and could mean others planning holidays abroad think twice too.
Meanwhile, Ms Bradshaw u-turned after a backlash began and cancelled her trip.
The optics of a politician flouting guidelines drawn up by the executive her party sits on would not have looked good.
According to government guidance, published on the NI Direct website, "you will need to self-isolate if you were in, or if you transited through, a country that is not on the list in the 14 days before your return to the Common Travel Area".
But people from Northern Ireland can travel to Italy, as it is on NI's exemption list.
However, in the Republic of Ireland, passengers entering the country from Italy must quarantine for 14 days upon arrival.
A green list for Irish travel is expected this week. People coming into the Republic from countries on the list will not be required to quarantine.
Currently only people entering the Republic of Ireland from Northern Ireland do not need to self-isolate for 14 days on arrival.
The Stormont executive changed its travel regulations earlier this month, which exempts more than 50 countries from the rules.
There have been some calls for the Irish government and Stormont executive to use the same list.
— to www.bbc.co.uk