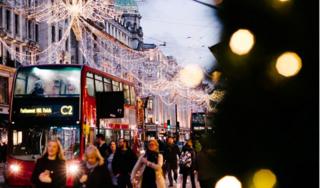 Bah humbug! Is Christmas really going to be cancelled?
That was the question on Wednesday, as Prime Minister Boris Johnson set out a new "rule of six" in England, restricting gatherings to a maximum of six people from Monday.
Scotland later announced it was following suit. Wales and Northern Ireland have also tightened restrictions.
Mr Johnson said it was "too early to say" if big parties could be held over Christmas. And when asked whether families would be able to celebrate together during the winter break, Health Secretary Matt Hancock replied: "Not necessarily."
So if the latest restrictions stay in place, how could Christmas be different this year?
1. The big day – and the big dinner
Under the new guidance, there will be a limit of six people from multiple households at social gatherings in England, and six people from two households in Scotland. There are some exceptions, but a family of five, for example, could be left with an awkward decision: do we invite grandma or granddad?
Either way, the rules mean there will be fewer places at the table for the all-important Christmas dinner – though there might be more turkey to go around.
But then it's a guessing game for turkey farmers. Nick and Maria Davis, from Usk Vale Poultry in south Wales, normally raise 70,000 turkeys for Christmas, but have cut back by about 20% for 2020 due to the uncertainty.
"The run-up to Christmas is going to be a nightmare," said Nick, adding: "It's no fun for a turkey farmer at the best of times but this year we really are on tenterhooks – it's a lucky turkey producer that gets this Christmas right rather than a clever one."
2. The Christmas 'do'
Annual office Christmas parties, Boxing Day turkey curry buffets, and pre-Christmas dinners with friends will also be subject to the "rule of six" – both in private homes and hospitality venues.
Venues…
— to www.bbc.co.uk