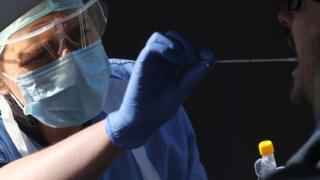 Thousands of NHS workers will join a study to establish whether Covid-19 antibodies reduce the risk of reinfection.
Chief Medical Officer Gregor Smith said 10,000 healthcare workers would be recruited for the research.
The Siren study will test people every two weeks for a year to track the effects of antibodies.
Dr Smith said it was an "important and exciting opportunity" to study the long-term impact of Covid-19.
Speaking at the Scottish government's coronavirus briefing, he said he was aware of reports of people potentially catching Covid-19 more than once.