Alan Crowhurst
" title="Chelmsford: officials cancelled Friday and Saturday's fixtures because of a frozen surface"
class="js-imageLoader"
data-at-xn="https://www.rp-assets.com/images/news/2020/06/08/79142-medium.jpeg" data-br-n="https://www.rp-assets.com/images/news/2020/06/08/79142-medium.jpeg"
data-br-m="https://www.rp-assets.com/images/news/2020/06/08/79142-large.jpeg" data-br-w="https://www.rp-assets.com/images/news/2020/06/08/79142-large.jpeg"
data-br-xw="https://www.rp-assets.com/images/news/2020/06/08/79142-large.jpeg" onclick="return false;">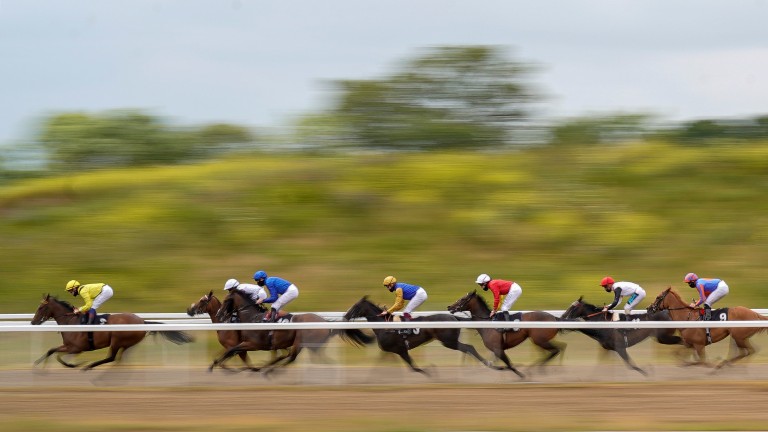 Chelmsford: officials cancelled Friday and Saturday's fixtures because of a frozen surface
Alan Crowhurst
By Andrew Dietz and James Stevens
Britain's cold snap has claimed another victim as Chelmsford joined Newbury and Warwick in cancelling its Saturday fixture while two other meetings at Lingfield and Naas face inspections on raceday morning.
With some parts of Britain recording the coldest temperatures since 1995, Newbury and Warwick held inspections on Friday morning and were forced to cancel due to frozen ground, although both fixtures have been rearranged.
Having already called off Friday's fixture, officials at Chelmsford called another inspection for 1.30pm, when they determined the Polytrack surface remained frozen in places with no chance of improvement before racing.
The temperature at the time of inspection was -2C, which is forecast to drop to -6C overnight and not rise above -2C again on Saturday, making it impossible for the ice and snow embedded in the track to thaw.
---
---
Clerk of the course Andy Waitt said: "We've been working the track to try to bring it round to a raceable surface but unfortunately with the snow and ice that is now incorporated into the track it just isn't breaking down. The temperatures are not getting up enough so there is no chance of the lumps of ice melting out of the track before racing tomorrow.
"It's a health and safety issue. Although it may look fine and feel all right, those tiny lumps would not be very good for the jockeys or the horses."
The decision to cancel was extra painful for Waitt as four races from the track had been scheduled to be broadcast on ITV4 as part of its rejigged Saturday coverage.
"It's gutting and we're devastated here, he said. "We never like to call a meeting off and unfortunately we've had to do two in a row, which is sad."
---
ITV4 revised Saturday schedule
Lingfield
2.00 Get Your Ladbrokes Daily Odds Boost Handicap
2.35 Bombardier British-Hopped Amber Beer Handicap
3.10 Betway Casino Handicap
3.45 Betway Handicap
Naas
1.40 BBA Ireland Limited Opera Hat Mares Chase (Listed)
2.15 Naas Handicap Chase
2.50 Naas Rated Novice Hurdle
3.25 Adare Manor Opportunity Handicap Hurdle
---
Lingfield and Naas officials optimistic
Lingfield will hold an 8am inspection on raceday morning due to the potential of a severe frost. The course was described as raceable on Friday morning.
Speaking at midday on Friday, clerk of the course George Hill said: "We're forecast to go down to -5C or -6C overnight, but we've woken up to those temperatures before and it's been fine. The inspection is very much precautionary.
"The track is absolutely fine today, we're nearly at 1C and the sun is out, and we haven't had any issues with it all week. We've only had a light dusting of snow, it's been minimal. Less snow means less moisture and it's the moisture that freezes not the surface. It's going to be a pretty chilly day tomorrow and we'll be lucky to get above freezing."
Naas will inspect at 7.30am before Saturday's card after a yellow weather warning for snow and ice was issued. The ground is soft on the hurdles and bumper course and soft to heavy on the chase track.
Eamonn McEvoy, general manager of Naas, said on Friday afternoon: "We are cautiously optimistic of racing going ahead. The track is raceable right now but it all depends on how much snow we get between now and tomorrow.
"There is a ferocious drying wind out there. We have fresh ground on the hurdles track, which could come up soft while the chase track will be soft to heavy."
Four races from the Irish track are now set to be broadcast on ITV4, headlined by a Listed mares' chase that features the Willie Mullins-trained Elimay – current ante-post favourite for the inaugural Mares' Chase at Cheltenham – and Gordon Elliott's Shattered Love.
Exeter's Sunday meeting is also under threat with officials set to inspect at 8.30am on raceday morning with the ground frozen in places and a threat of snow.
The IHRB have rearranged two of Ireland's cancelled fixtures with Thurles set to race on Monday after their Thursday card was lost. Fairyhouse's fixture from February 10, which was cancelled because of a waterlogged track, will now take place on Monday week.
Warwick and Newbury rescheduled
Contingency plans had already been put in the place and the entire cards at Warwick and Newbury will be rescheduled on Monday and Sunday next week.
On Thursday, the BHA announced a contingency plan for Newbury in case of Saturday's cancellation, with the full seven-race fixture – featuring the £125,000 Betfair Hurdle – to be moved to February 21 and shown on ITV4.
Warwick will move its fixture, set to feature leading Arkle hope Allmankind in the Agetur UK Kingmaker Novices' Chase, to Monday following discussions with the BHA.
Edward Whitaker
"
title="Nicky Henderson: "It's a great effort from Newbury, the sponsors Betfair, the BHA and ITV""
class="js-imageLoader"
data-at-xn="https://www.rp-assets.com/images/news/2020/11/17/84994-medium.jpeg" data-br-n="https://www.rp-assets.com/images/news/2020/11/17/84994-medium.jpeg"
data-br-m="https://www.rp-assets.com/images/news/2020/11/17/84994-large.jpeg" data-br-w="https://www.rp-assets.com/images/news/2020/11/17/84994-large.jpeg"
data-br-xw="https://www.rp-assets.com/images/news/2020/11/17/84994-large.jpeg" onclick="return false;">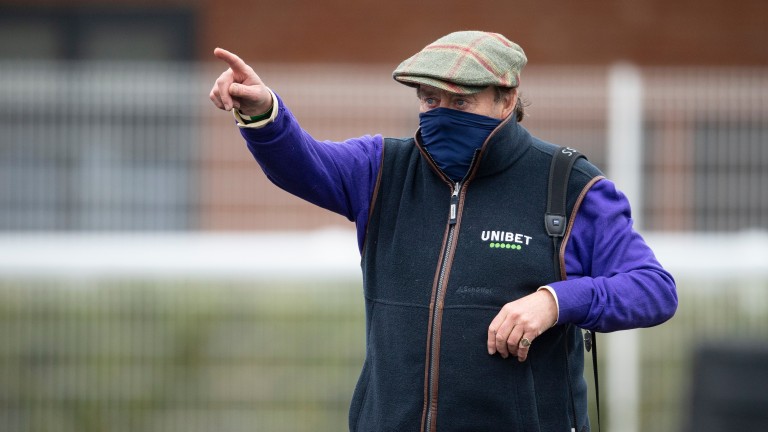 Nicky Henderson: "It's a great effort from Newbury, the sponsors Betfair, the BHA and ITV"
Edward Whitaker
Newbury's alternative date is a huge boost for champion trainer Nicky Henderson, with two of his leading Cheltenham Festival hopes looking likely to have prep runs next week.
Altior is seeking a fourth consecutive success in the Game Spirit before a possible clash with Chacun Pour Soi in the Champion Chase, while Gold Cup contender Champ is set to make a first appearance since his dramatic victory at last year's festival in the Denman Chase.
Regarding their participation should the meeting be put back eight days, Henderson said on Thursday: "I'll need to have a discussion with the owners, but I would imagine we'll be sticking to our plan.
"The two in the Betfair Hurdle [Buzz and Mister Coffey] will run too, as that's what they've been aiming for. With Altior and Champ, they're preparing for something else so it's important to get them in.
"It's a great effort from Newbury, the sponsors Betfair, the BHA and ITV. These things are important and appreciated."
All races on Sunday will be reopened for entries apart from the Betfair Hurdle, which will revert to the previous cut-off point when the weights were revealed in January.
Following Friday morning's inspection, Warwick clerk of the course Jane Hedley said: "We had a less cold night, getting down to -1.5C, but nevertheless we've got some crunchy areas this morning, even where it's been covered.
"With the forecast of -3C for 12 hours overnight and getting no higher than 0C tomorrow, we decided very sadly to give up on tomorrow's racing and allow everyone to make their plans for Monday."
---
Weather prospects
Saturday
Chelmsford
Cancelled (frozen)
Lingfield
Standard
Outlook: Inspection 8am Saturday. Severe frost forecast overnight (-5/-6C). Perfectly raceable on Friday with no issues to report on the Polytrack.
Naas
Soft (Hurdle), Soft to heavy (Chase) 
Outlook: Inspection 7.30am Saturday. Yellow weather warning in place with snow forecast Thursday night into Friday.
Newbury
Cancelled (frozen)
Warwick
Cancelled (frozen)
Sunday
Exeter
Soft, frozen in places
Outlook: Inspection 8.30am Sunday. Snow showers
are forecast Friday and Saturday. Temperatures are forecast to rise on Sunday but this may not give the track enough time to
thaw.
Punchestown
Soft to heavy 
Outlook: Unsettled forecast remaining cold with snow showers until Friday. Remaining unsettled over the weekend with rain forecast.
Southwell
Standard to slow
Monday
Catterick
Soft
Snow covered but currently frost free beneath
Outlook: Remaining cold with sharp overnight frosts and daytime temperatures struggling above freezing through to Sunday. Temperatures rising slowly through Sunday with the chance of light rain/sleet. Monday milder.
Lingfield (jumpers' bumpers)
Standard to slow
Outlook: 0C tomorrow, but becoming milder on Sunday with some showers in the evening and temperatures rising again on Monday
Thurles
Currently unraceable due to snow
Outlook: Light sleet on possible on Saturday morning before turning cloudy and mild. Rain on Sunday but temperatures could rise to 11C on Sunday and Monday
Warwick
Soft
Currently frozen in places, frost covers deployed
Outlook: Hard frost expected on Saturday but milder from Sunday, rising to 5C by the end of the day. Increasingly mild with a band of rain overnight into Monday with temperatures of up to 10C by lunchtime
Wolverhampton
Standard to slow
Tuesday
Carlisle
Frozen (was heavy)
Outlook: Forecast to be much milder from Sunday with rain on Sunday and Tuesday
Kempton
Standard to slow
Newcastle
Standard to slow
Outlook: course to be ripped up before racing. Freezing temperatures over the weekend but milder on Monday and Tuesday
---
Read more:
'The television didn't lie, they came pretty close' – France's craziest race
Jockey Maxime Tissier given nine-month ban after admitting to placing race bets
Children's charity WellChild announced as new Cheltenham Gold Cup partner
Matthew Smith hoping freshness can be the key to Ronald Pump in Stayers' Hurdle
'He was good but he was quirky' – popular Yorkhill retired after eventful career
---
Watch live races through the Racing Post website. Log in to your bookmaker account via the bookmaker button at the top of the page and look on the racecards for eligible races. Click the red 'Watch live now' icon and they're off! Find out how here
---
— to www.racingpost.com