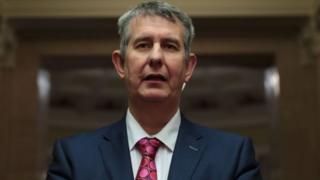 The Brexit Deal could bring advantages to Northern Ireland, giving it access to both the UK market and the EU single market, Edwin Poots has suggested.
But any advantages would be dependent on minimising new checks between GB and NI, said the DUP agriculture minister.
The DUP has been strongly opposed to the Brexit deal, saying it threatens the constitutional and economic integrity of the UK.
The deal's transition period, agreed in October, ends in January.
'Light touch'
At that time, Northern Ireland will continue to follow EU rules on agricultural and manufactured goods, while the rest of the UK will not.
Additionally, the whole of the UK will leave the EU's customs union, but Northern Ireland will continue to enforce the EU's customs code at its ports.
This will mean some new processes and checks for goods entering Northern Ireland from the rest of the UK.
Last week the UK government confirmed it would expand infrastructure at Northern Ireland's ports to carry out checks on animals and food products.
It generally described a "light-touch" approach to new checks and processes, though the detail will all have to be agreed with the EU.
Mr Poots said agreeing on such an approach to checks would be key.
"It has the potential to get right down to around 1% of commercial vehicles that are entering NI, and in that case that wouldn't be particularly damaging to the economy.
"We would have the advantage of actually having access to the Single Market and to the UK market, and make NI an attractive place for inward investment.
"So we need to be very sure that we can actually maximise that advantage, whilst at the other side minimising the disadvantage."
Meanwhile the Stormont official responsible for Brexit issues says that agrifood inspection facilities will have to be expanded "quite materially" as a result of the deal.
The EU has strict rules on food products, requiring them to enter the single market through border control posts.
That will apply to food products entering NI from GB.
Andrew McCormick told MLAs that existing facilities at ports and airports would have to be scaled up.
However, he added that the actual checking of products should be "quite low key".
Timetable 'useful'
Speaking on BBC Radio Ulster's Good Morning Ulster programme, Mr Poots also said it would be useful for the executive to give some NI businesses a timetable for reopening.
But he said the executive had not yet received scientific advice saying it was safe for local retailers to open.
In England, all non-essential retailers can open from 15 June, but the NI Executive has not outlined a timetable.
'Cautious approach'
The executive is due to assess the coronavirus regulations on Thursday, as part of a review carried out every three weeks.
"A timeline would allow businesses in all sectors to plan for their safe reopening," said Mr Poots.
"Hopefully the executive can give those in retail, hospitality and across the economy the certainty they need very soon."
Mr Poots welcomed the fact the Department of Health recorded no new Covid-19 deaths on Tuesday for the first time since March – but urged against complacency.
"One swallow doesn't make a spring," he warned.
"Hopefully in the next week we can look at what we can move on next and how we can facilitate bringing back a degree of normality.
"But it will be challenging, and it has to only to be based on the scientific advice."
Meanwhile, car parks are reopening at forest parks across Northern Ireland.
However, facilities at the parks, such as toilets or cafes, are not yet allowed to open.
"Our rangers will be there to ensure that there will be less cars in the parks to ensure social distancing and reasonable steps will be taken," said Mr Poots.
"At this stage we cannot, much as we'd like to, because of shared surfaces, we cannot open toilets and cafes and the other facilities that people would associate with going to a forest park.
"What we now know is when people are outdoors there is little spread of Covid but there is considerable spread of Covid from shared surfaces."
— to www.bbc.co.uk