Andy Lyons
" title="Breeders' Cup: Lasix will be banned in 2021 meeting"
class="js-imageLoader"
data-at-xn="https://www.rp-assets.com/images/news/2020/11/06/84536-medium.jpeg" data-br-n="https://www.rp-assets.com/images/news/2020/11/06/84536-medium.jpeg"
data-br-m="https://www.rp-assets.com/images/news/2020/11/06/84536-large.jpeg" data-br-w="https://www.rp-assets.com/images/news/2020/11/06/84536-large.jpeg"
data-br-xw="https://www.rp-assets.com/images/news/2020/11/06/84536-large.jpeg" onclick="return false;">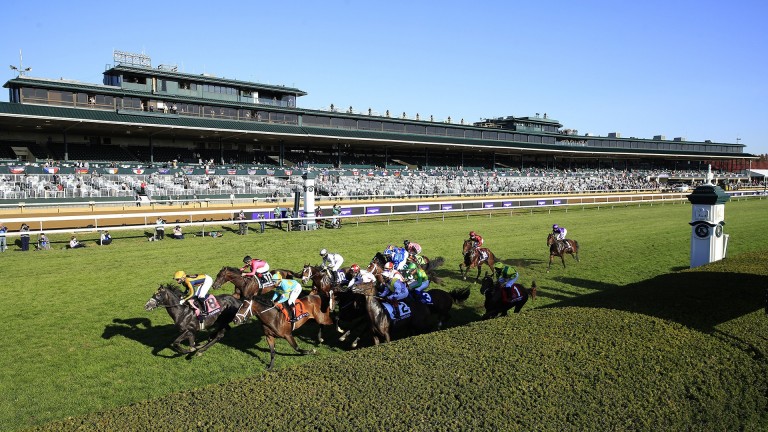 Breeders' Cup: Lasix will be banned in 2021 meeting
Andy Lyons
Breeders' Cup races which form part of the 2021 "Win and You're In" Challenge Series will be run without the raceday treatment of Lasix,  as the diuretic continues to be phased out in leading racing jurisdictions.
The organisation also stated that Graded stakes points for the purpose of selection into a Breeders' Cup World Championships race will only be awarded in Lasix-free Graded races.
These initiatives are in keeping with Breeders' Cup's efforts to move towards elimination of race-day medications and to better align American racing with the rest of the world, the organisation said in a release.
Breeders' Cup, part of the Thoroughbred Safety Coalition, welcomes others to join these efforts to bring the US further in line with international standards.
Supporters of the continued use of Lasix believe the medication is a low-cost treatment to reduce the equine risk of exercise-induced pulmonary hemorrhage, while critics claim it is overused and performance-enhancing.
Last year at some tracks, two-year-olds raced without Lasix, including on Future Stars Friday at the Breeders' Cup at Keeneland. This year no Lasix will be permitted for any race at the Breeders' Cup at Del Mar.
The passage of the Horseracing Integrity and Safety Act, which was signed into law late last year, provides a framework that will leave Lasix-free racing as the general standard as of July 1, 2022.
Drew Fleming, president and CEO of the Breeders' Cup, said: "Even before HISA was signed into law, running the World Championships Lasix-free was a goal of Breeders' Cup.
"Extending this standard to all races associated with the Breeders' Cup World Championships will hopefully set an example for other racetracks and stakeholders to embrace forthcoming safety and integrity measures, including the elimination of race-day medication, as a new, safer era for our storied sport approaches."
Even before Breeders' Cup's announcement, most Graded races in 2021 were scheduled to be run without Lasix following commitments from leading tracks in California, New York, Kentucky, and other areas.
---
Read more
All the important punting details you need for the Dubai Carnival
Gee Whiz! Racehorse caught up in major cocaine bust dazzles on debut
---
Follow your favourites with our amazing Horse Tracker feature. Add up to 1,000 horses to your stable, filter them and keep up to date with automatic email alerts. Join Members' Club Ultimate now and never miss a winner again!
---
— to www.racingpost.com