Around 3,000 GPs and practice nurses are today receiving their first Covid-19 vaccine.
The doctors and nurses are being administered the Oxford-AstraZeneca jab at vaccination centres around the country.
About 1,200 first doses will be given at St Mary's Hospital in Dublin, with 600 at the Park Hotel in Portlaoise, 600 at Merlin Park Hospital in Galway and a further 600 at the Sligo Institute of Technology.
Yesterday, 1,800 GPs and practice nurses received their second dose of the Moderna vaccine.
It comes ahead of the start of the community vaccination programme for over-70s from next week, beginning with people in the 85-plus age group tomorrow.
Around 12,000 first doses of the Pfizer BioNTech vaccine will be given out at 84 GP practices in 20 counties.
Meanwhile, the latest figures show that as of last Thursday, 261,073 vaccines had been administered in Ireland.
Some 171,239 of the vaccinations were first doses, while 89,834 people have also received their second dose.
The Chief Executive of the HSE has said people who are aged 85 or older should not be too concerned if they have not heard anything from their GP about getting a vaccine.
Paul Reid told RTÉ News that people will hear "very shortly" from their doctor about arranging an appointment.
"They should rest at ease," he said.
"Their GP will be in contact and making arrangements for them, whether it's in the GP practice itself, or whether it's in another GP practice as buddying up, or whether it's in one of the vaccination centres across the country."
HSE CEO Paul Reid says that if people over the age of 85 have not heard anything about getting a Covd-19 vaccine, then they will hear from their GP "very shortly" about arranging an appointment | https://t.co/DoL1d2mesS pic.twitter.com/s1arvqJmx2

— RTÉ News (@rtenews) February 14, 2021
1,200 AstraZeneca doses are being given at the centre in Dublin, 600 in Portlaoise, 600 in Galway and 600 in Sligo #Covid19Ireland @RTENews pic.twitter.com/BFmaYq2AMc

— Fergal O'Brien (@Fergal_O_Brien) February 14, 2021
It comes as some public health experts have expressed concern that the country runs the risk of undoing all of its vaccination progress, if the current travel situation is not addressed.
Infectious Disease Consultant Dr Cliona Ní Cheallaigh said this morning that Ireland cannot afford to have people travelling in and out of the country at the current rate.
Speaking on RTÉ's Brendan O'Connor programme, she warned that with the global prevalence of the virus and new variants, the progress made so far could unravel.
Dr Ní Cheallaigh said investment was needed in public health teams in areas such as contact tracing, who she said needed to become "like SWAT teams".
As of 8am this morning, there were 899 patients with Covid-19 in Irish hospitals.
Yesterday, the Department of Health was notified that a further 66 people had died with Covid-19 and 1,078 new cases were confirmed.
Of the latest cases, 433 were reported in Dublin and 139 in Galway.
Elsewhere, a further 11 coronavirus deaths have been recorded in Northern Ireland, with ten occurring during the past 24 hours. It takes the official Department of Health toll to 1,996.
There were 176 new cases from tests on 1,092 individuals. That is the lowest in a 24-hour period since 22 September.
There are 476 confirmed coronavirus patients in hospital, with 58 in ICU.
Too early to indicate lifting of restrictions – Donnelly
Minister for Health Stephen Donnelly has said it is too early to say when Level 5 restrictions might be lifted.
Speaking on RTÉ's This Week programme, he said the number of close contacts per case and the percentage of positive cases in Dublin, are rising again.
Mr Donnelly said he met Deputy Chief Medical Officer Dr Ronan Glynn following last Thursday's NPHET briefing for further details on the situation.
He said: "Close contacts are going up again, not a lot, but they are going back up again. Positivity rates remain high, particularly among close contacts. The percentage of new cases coming from Dublin is rising.
"We think there is more opportunity in terms of workplaces to help people to add extra protections as well. It's far too early given all of that to give accurate predictions."
On schools reopening, Mr Donnelly said there were "no fixed dates" yet for when this might happen, adding that Minister for Education Norma Foley is currently in talks on the issue.
Asked how long the country faces under Level 5 restrictions, Mr Donnelly cited the new variants and their transmissibility, but said numbers needed to come down "much more" than where they were now.
He said the health advice from NPHET was unambiguous, adding that current modelling suggests if the virus remains suppressed at the current rate, the country could see between 200-400 cases per day by the end of February.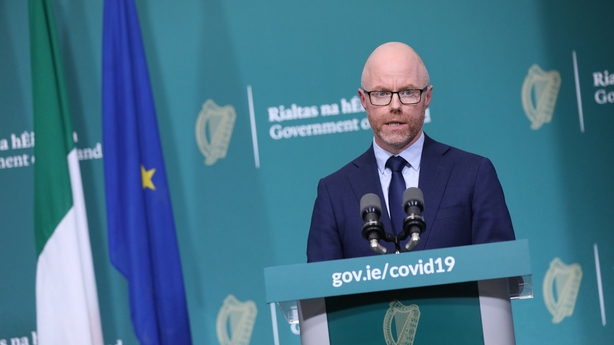 Mr Donnelly said that it was still possible for everyone in the country to be vaccinated by September, provided that expected supplies of approved vaccines were delivered on time.
He said the September date was an effort to give people a sense of where all people could be vaccinated by, provided all supplies of pre-purchased doses arrive, but added that AstraZeneca were already behind.
Asked why larger parish halls or hotels were not being used to carry out vaccinations, Mr Donnelly said an operational decision had been taken by the HSE, in conjunction with the IMO.
He said given the vulnerability of older age groups, they needed to be vaccinated in clinical settings.
Asked about medical professionals who may refuse to vaccinate themselves or others, Mr Donnelly said anyone who finds themselves in that situation can go to the HSE helpline to find a GP who will.
"I don't believe anyone in the country should be denied a vaccine by their GP, I don't think that's acceptable at all," he said.
— to www.rte.ie